Posted by

Ryan
Comments Off

on Conversion Van Financing Options: We're Your Best Choice!
In addition to helping you find your new conversion van, our team at Paul Sherry Conversion Vans can assist you with all of your financing needs. We want to ensure that you drive off the lot with the van to meet your needs, and by offering competitive auto loans, we can make that a reality. Thanks to our efforts, we are the best choice for financing your next auto.
We Compare More than 20 Options for You
When you search for auto financing, most lenders will only have a single offer for you. At Paul Sherry Conversion Vans, we feel that working with a single lending institution would be too limiting, which is why we will always contact more than 20 different credit unions and banks in the local area. We put in all the time and effort of contacting them for you, so you don't have to do anything. Then, we'll tell you what [...]
Posted by

Ryan
Comments Off

on New RAM Conversion Vans: What Makes Them Unique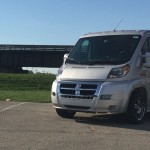 Out of the various new conversion vans on the market, the RAM ProMaster stands out from the crowd with a range of class-exclusive and best-in-class features. Between all of these amenities, it is no wonder that so many drivers choose a RAM ProMaster over similar new conversion vans. Whether you want a model with front-wheel drive, appreciate the low load height, or just love the seemingly limitless options, the ProMaster can be the right van for you.
Best-in-Class Turning Diameter
One of the first best-in-class features you will notice on the RAM ProMaster is its turning radius. Since you only need 36 feet to turn this van around, you can easily maneuver it around the city and get in and out of that tight spot. While vans are known for being challenging to park or complete tight turns, the ProMaster is the exception to that rule.
Class-Exclusive Front-Wheel Drive System
If you want front-wheel drive in [...]
Posted by

Ryan
Comments Off

on Why Our Dealership Could Be the Best Place to Find a Used GMC Conversion Van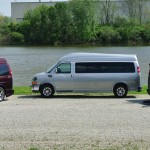 If you are in the market for a used GMC conversion van, then consider shopping at Paul Sherry Conversion Vans. Our dealership could easily be the best place around to find the conversion van you need, whether you want to maximize seating, mobility, or something else. Between our constantly updated selection and financing, we have everything you need.
We Get a Steady Influx of Options
It can be challenging to find used models if you want something specific, but our dealership takes care of the hassle of searching for you. We regularly receive more used GMC conversion vans as part of trade-ins of people buying new RAM vans. Because of this, we frequently get new models on our lot, creating an ever-expanding inventory.
We Always Have Plenty of Used Conversion Vans
Because of our trade-ins and purchases, drivers from Piqua and beyond reliably supplement our existing stock. This results in a wide range of models [...]
Posted by

Ryan
Comments Off

on GMC Conversion Vans: How They Compare to Today's RAM Van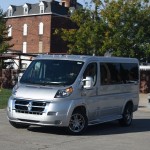 When it comes time to start looking for a conversion van, you will have a few options, including those from multiple manufacturers. While the RAM ProMaster and other RAM vans are currently the leaders in the world of conversion vans, GMC held that title for a long time. Because of this, you will find a nice mix of both brands in your search for a van. To help figure out why you should choose one over the other, take a look at how they compare to each other.
A Note about Used vs. New
An important thing to keep in mind is whether the van is new or used. Because RAM vans are currently the class leaders in numerous metrics, you will almost always be able to find them new and be able to customize them however you want. Because of their popularity, you can also find a used RAM van without an issue, including [...]
Posted by

Ryan
Comments Off

on America's Best Selling RAM ProMaster Conversion Van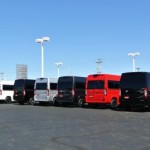 The RAM ProMaster is a best-selling model, and you can take advantage of everything this model has to offer. The RAM Conversion Van is an excellent choice with the regular specifications as well as when converted to meet specific needs, whether that is aiding those with mobility restrictions, providing a limo environment, or just taking multiple rows of passengers to the destination.
Thank You to the RAM ProMaster Owners
Thank you to all of the RAM ProMaster owners who have contributed to this model being the best-selling in its group. You made a smart choice when selecting the reliable and versatile RAM ProMaster with its spacious interior and range of interior configurations. We are glad that you are able to enjoy your ProMaster along with all of the comforts it contains and the convenience it provides.
Why Drivers Prefer the RAM ProMaster
It isn't hard to see how the RAM ProMaster became a class leader. [...]
Posted by

Ryan
Comments Off

on New Conversion Van Showroom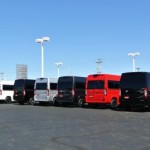 Head to Paul Sherry Conversion Vans for service or to buy a new conversion van and you will notice that our sales and showroom is new and improved. With our recent renovations to the dealership, we have a dedicated spot for conversion vans, including both indoor sales and a showroom. With this updated space, we can better serve you, our customers.
Relax in Comfort While Waiting
Whether you are waiting for those finishing touches on your paperwork or for your conversion van service to be finished, you will now have an improved waiting area to relax in, complete with highly comfortable chairs, magazines, and a TV for entertainment. There is even coffee, water, and more to ensure that any time you have to wait will simply fly right by.
A Complete Showroom
In the past, those looking to buy one of our conversion vans had to make do with looking at them outside or maybe [...]
Posted by

Ryan
Comments Off

on Updates and Changes for the 2017 RAM ProMaster Conversion Van Chassis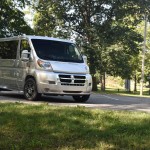 Those interested in a 2017 RAM ProMaster will appreciate the range of updates the automaker added for this year. Thanks to the updates, it is now easier than ever before to upfit the van, resulting in a better conversion from our team here at Paul Sherry. Let's take a closer look at the changes for the latest RAM ProMaster Conversion Van.
Improved Upfitting
The most exciting change for most drivers is the adjustments to the cutaway and chassis cab models that will improve upfitting. On both of these models, RAM has made the rear axle wider, making it easier for service bodies to fit snugly onto the van. Essentially, it lets the upfits be applied in a flusher way, enhancing the quality and ease of these upfits. To make upfitting even better, the ProMaster also now comes standard with wiring prep for rear speakers and upfit interface connectors, regardless of the model you look at.
[...]
Posted by

Ryan
Comments Off

on Why Purchase Your RAM ProMaster Conversion Van from Paul Sherry?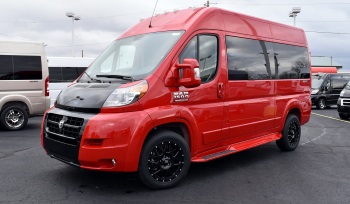 There are a relatively limited number of places to find RAM ProMaster conversion vans, but there are still enough to offer several choices. That said, Paul Sherry typically will be the right choice, no matter where in the United States you live. In addition to an excellent selection, Paul Sherry can help you customize your own ProMaster if you don't find what you are looking for, offers ways to save money, and can help arrange delivery of your conversion van to any state.
Amazing Selection
Although we have a range of vehicles at Paul Sherry Conversion Vans, the vast majority are RAM ProMasters. Because of this, there is always an excellent selection of vans from a range of model years and in varying conversion styles. This means that whether you want a newer conversion [...]
Posted by

Ryan
Comments Off

on Find GMC Conversion Vans for Sale at Paul Sherry
No matter the reason you are in the market for a GMC conversion van, Paul Sherry is ready to help you out. We have an excellent inventory of vans for a range of purposes and can even work with you to customize one if you don't find what you see. When buying from Paul Sherry, you will receive excellent customer service during every step of the process, ensuring that you have a positive experience.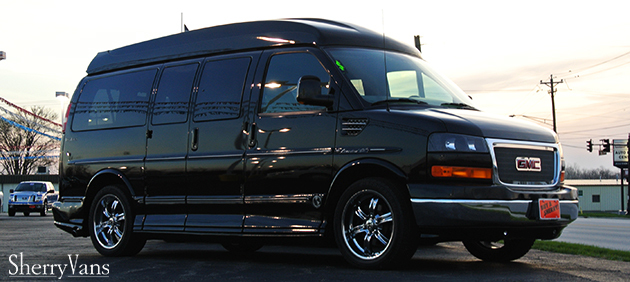 A Wide Selection
Thanks to our range of GMC conversion vans for sale, there are options for everyone, regardless of your desired purpose. We have vans that have been converted to be wheelchair accessible, as well as those that were converted to become limousines. There is also a variety of model years available, meaning that our selection has a wide range of prices to meet nearly any budget. Since our conversion [...]
Posted by

Ryan
Comments Off

on 5 Events When Hiring a Limo Van Can Save the Day
Next time you have a large event, consider hiring a limo van instead of taking multiple cars or just sticking to a regular limo. A limo van is the perfect combination of a passenger van and a luxurious limousine with seating for a large group of people and premium accommodations, like leather seating and extra climate control. You can use a limo van for nearly any situation, but here are some of the times when you will really appreciate having hired one.
Bachelorette and Bachelor Parties – People have been hiring limos for decades to help them celebrate their bachelor or bachelorette parties, but a limo van is an even better idea. They are more spacious so you can bring a larger group without feeling squished or risking your safety. At the same time, you still get all the premium features that make limos so popular for bachelorette and bachelor parties: entertainment systems, tables, [...]
Posted by

Ryan
Comments Off

on Why You Should Buy Your New Mobility Van from Paul Sherry Conversion Vans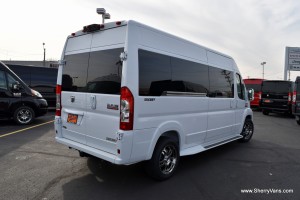 When it comes time to buy your new mobility van, getting it from Paul Sherry Conversion Vans is a smart decision. We understand our clients and work hard to get you exactly what you are looking for. We pride ourselves on our friendliness and knowledge of our inventory. This helps make the shopping experience stress-free for you, letting you move around town in your mobility van in almost no time.
Excellent Selection
We have a great selection of mobility vans at Paul Sherry Conversion Vans since this is one of the areas that we specialize in. While most are based off the RAM ProMaster, we have several other models for you to choose from. The conversions are all of the highest quality, giving you confident access to