Available New Conversion Vans for 2018!
RAM, GMC, Chevrolet, Ford
November 29, 2017

Posted by

Ryan
Comments Off

on Available New Conversion Vans for 2018!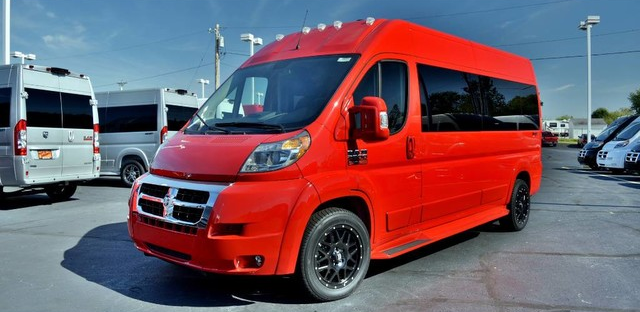 With 2018 just around the corner, Paul Sherry Conversion Vans is getting ready to offer you an updated selection of conversion vans. You can count on the same amazing selection of vehicles that we always offer, but keep your eyes peeled, as new 2018 conversion vans will be arriving on our dealership to join the existing new and used vans. As always, the new conversions cover a wide range of vehicles, giving you the ability to own the exact type of conversion you want.
RAM Conversion Vans by Sherry Vans
One of our most popular types of vans has always been RAM conversion vans from our team at Sherry Vans. We base these conversions on the reliable RAM ProMaster with its seating for nine passengers and best-in-class features. Remember that the RAM ProMaster and all conversions based on it have a turning radius of 36 feet, an interior height of up to six feet four inches, and over 20 mpg. Those are just some of the reasons we choose to convert Sherry vans; it makes sense to start with the best.
Starting with the RAM ProMaster, the conversions from Sherry Vans are perfect for a range of uses. Those in search of a passenger van will find choices with seating for seven, eight, or nine with several interior seating configurations. The mobility conversions from Sherry Vans are also incredibly popular and useful. There are several lift options available as well as interiors that can fit one or more wheelchairs with permanent traditional seats. Some configurations even include flip-down seats that allow space for a wheelchair or can be folded down for passengers. You will always notice a range of floor plans and options on our new Sherry Vans for 2018.
GMC & Chevrolet Conversion Vans by Explorer Vans
For those who prefer their conversions to be based on the GMC or Chevrolet vans, 2018 will also see the addition of numerous conversions from Explorer Vans on our lineup. These options are based on the incredible GMC Savana and Chevrolet Express, and they are among the most classic vans you will find anywhere. Explorer Vans starts these models with the 2500 Chassis, which is known for its safety. They are about the same length as a GMC Yukon XL or Chevy Suburban, but the van body style delivers a shorter front end as well as a tighter turning radius.
The interiors of these Explorer conversions maximize headroom, legroom, and storage space. There are options for seven or nine passengers available, and you will find that everyone is treated to comfort as you drive to your destination. Features like leather seats and 29-inch HDTVs make the drive go by quickly. The Explorer Vans have some exclusive features you won't get anywhere else, including a 60/40 passenger door that includes child safety locks, a fully integrated body-glass package, and dual controls for the rear air heat. These models are almost always based on the RWD platforms, but we can also help you find an Explorer conversion with 4×4 or one that is based on a van with an extended wheelbase.

Other Van Converters You'll Find
Going back to other conversions, Waldoch has a long history of successful conversions that deliver practicality, luxury, and more. They have four categories that you can find at Paul Sherry Conversion Vans for 2018, all of which are available new. The Luxury Galaxy Van delivers a luxurious ride with a range of interior configurations to offer between six and 15 seats. They get standard cloth or available leather, roller or power shades, and the industry-innovative 32-inch fold-down TVs. The Waldoch Limo Package takes luxury to the next level with its 77 inches of headroom and more.
The Shuttle Vans from Waldoch appeal to those who need to transport larger groups, seating ten to 15 passengers. Some models even include luggage racks. Or consider one of the new Mobility Vans from Waldoch on our lot in 2018. They work with mobility installers across the country for a range of interior configurations and the ability to provide anyone with the mobility assistance they need to regain their independence.
Don't Hesitate to Check Out Our Selection
Checking out all the amazing new conversion vans on our lot for 2018 is no challenge at all. If you are in the Piqua, Ohio, area, head over to browse them in person. Or if you aren't up to the drive, just explore our website. We always include detailed descriptions, pictures, and even some videos on our product descriptions so you know exactly what each van delivers. We're always here to answer your questions as well.