Low Top vs. High Top Conversion Vans
September 19, 2019

Posted by

Ryan
Comments Off

on Low Top vs. High Top Conversion Vans
When you purchase a conversion van, you usually have several configuration options to choose from. One of those options is roof height, which can be low or high top. Both configurations have their benefits, but the one you choose depends on your primary purpose for your van.
Here's what you need to know about high top and low top conversion vans before you make your choice.
Benefits of Low Top Conversion Vans
Easier to Drive
The shorter profile of a low top conversion van makes it easier to drive. In most cases, low top vans are more balanced on the road to prevent top-heaviness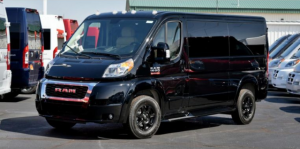 when maneuvering turns and corners. These vans can also be easier to handle than their high top counterparts in inclement weather conditions, like wind or rain.
More Convenient for Storage and Clearance
If you plan to park your van in the garage or travel in areas without high clearance, then a low top conversion van is your best option. Their standard roof height makes for convenient entry and clearance in areas without a lot of height, like parking garages. City drivers might find it more convenient to have a low top conversion van.
Better Aerodynamics and Efficiency
Low top conversion vans come with their roofs intact as the manufacturer made them. There are no modifications, so the van's design is exactly how its manufacturer intended it to be. That means that you'll likely get better aerodynamics from a low top conversion van when traveling, leading to a more efficient vehicle.
Benefits of High Top Conversion Vans
More Room for Tall Occupants
Passengers won't always stand up in a conversion van, but entering and exiting the vehicle can certainly be easier to do in a high top conversion van. These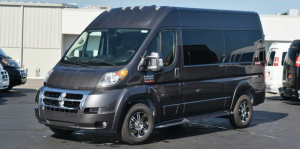 vans can have an extra foot or more of head clearance over a low roof van, giving tall occupants a little more headroom or making the van more open for camping. A high roof conversion van can also be more convenient for loading and unloading equipment if you plan to use it as a work vehicle.
Entertainment Options
Many high top conversion vans include, or have options to include, rear entertainment systems with a TV, speakers, and gaming hookups that make traveling fun for the family. If long trips with kids are in your future with your conversion van, then a high top configuration could be the best option.
Versatility
Conversion vans are known for their ability to meet almost any need you have for your van, whether it's being a plush, entertainment-focused vehicle for the family to hauling all your work materials with ease. A high top conversion van's interior space becomes just a bit more versatile, though, making it an excellent option for people who might have multiple uses for their vehicle.
At Paul Sherry Conversion Vans, we have a range of vans to fit the needs of you, your family, your clients, and whoever and whatever else you might transport! Check out our line of new ram conversion vans online or stop by the lot to see them in person.