Additional Services
Virtual Walk-Around: Get a virtual walk-around so you can get a detailed look from home.
Home Delivery: Provide the option to start a your purchase online and have the van delivered directly to your home to complete your purchase, including paperwork.
Trade-In: We're also providing trade-in estimates without the need to visit our dealership in-person.
Financing: Apply for auto financing online.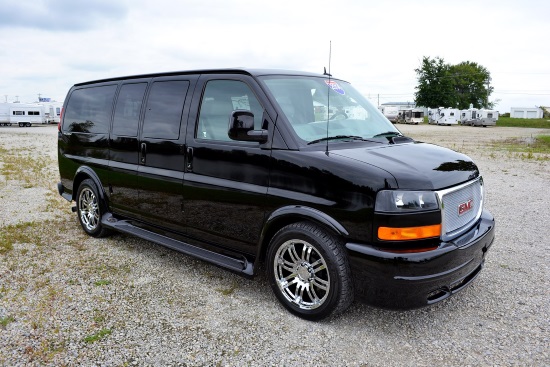 Here at Paul Sherry, we understand the importance of choosing the conversion van that fits your lifestyle and budget. For this reason, we make every effort to have a quality selection of Majestic conversion vans to choose from. Our staff is familiar with features, specs and performance of all chassis and conversions of the Majestic Van Company. To find Majestic Conversion Vans for sale, browse our inventory. If you want to know more specific details than what our website has to offer, give us a call at (866)906-8303 and we'll answer all your Majestic Van questions.
Majestic GMC/Chevrolet Conversion Van Specs (Challenger XS & LTX)
Seating – Phantom II Cloth Seats, Midship Seats Tethers, Quick Release 2nd Row Seats, Bi-fold Manual Sofa, 3 Point Harness
Interior – Front Door Trim Accents, 60 Door Map Pockets w/Soft Trim, 40 Door Built In Cup Holders w/Soft Trim, 60/40 Door Shades, Qtr Wall Soft Trim w/Sill Cup Holders, Qtr Window Shades, Rear Door Window Shades, Rear Package Shelf, Carpet Floor Mats Front/2Row/3rd Row, Floor Insulation Pad, Side Walls/Cargo Door Insulation 6", Headliner Insulation 3"
Electronics – LCD Monitor w/DVD Player, Wired Headphones (2), Stand Alone TV Speakers (Hightop only), Rear Fuse Box, Rear 12 Volt Outlet
Lighting – Overhead Switch Console, Overhead Dome/Reading Lamp (6), Rear Cargo Lamp, Headliner Indirect Lights, Qtr Valance Indirect Lights, Headliner Accent Wood w/Lights, Valance Soft Touch w/Lights
Exterior – Color Keyed Paint Out Pkg , Door Handles, Outside Mirrors, Wiper Cowel (Optional), Aluminum 20" Wheel/Tire Package (Optional), Running Boards, Custom Graphics
Majestic Ford Conversion Van Specs (Challenger XS & LTX)
Seating – Phantom II Cloth Seats, Midship Seats Tethers, Quick Release 2nd Row Seats, Bi-fold Manual Sofa , 3 Point Harness — All Positions
Interior – Front Door Trim Accents, 60 Door Map Pockets w/Soft Trim, 40 Door Built In Cup Holders w/Soft Trim, 60/40 Door Shades, Qtr Wall Soft Trim w/Sill Cup Holders, Qtr Window Shades, Rear Door Window Shades, Rear Package Shelf, Carpet Floor Mats Front/2Row/3rd Row, Floor Insulation Pad, Side Walls/Cargo Door Insulation 6", Headliner Insulation 3"
Electronics – LCD Monitor w/DVD Player, Wired Headphones (2), Stand Alone TV Speakers (Hightop only), Rear Fuse Box, Rear 12 Volt Outlet
Lighting – Overhead Switch Console, Overhead Dome/Reading Lamp (6), Rear Cargo Lamp, Headliner Indirect Lights, Qtr Valance Indirect Lights, Headliner Accent Wood w/Lights, Valance Soft Touch w/Lights
Exterior – Color Keyed Paint Out Pkg, Door Handles, Outside Mirrors, Wiper Cowel (Optional), Aluminum 20" Wheel/Tire Package (Optional), Running Boards, Custom Graphics