Additional Services
Virtual Walk-Around: Get a virtual walk-around so you can get a detailed look from home.
Home Delivery: Provide the option to start a your purchase online and have the van delivered directly to your home to complete your purchase, including paperwork.
Trade-In: We're also providing trade-in estimates without the need to visit our dealership in-person.
Financing: Apply for auto financing online.
Ford Conversion Van Inventory
2015 Ford Conversion Van - Explorer Vans 7 Passenger | CP16599T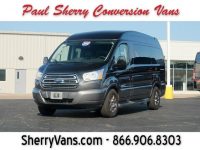 | | |
| --- | --- |
| Passenger: | 7 Passenger |
| Mileage: | 19816 |
| Condition: | Used |
| Drivetrain: | Rear Wheel Drive |
| Engine: | 3.5L V6 DI |
| | |
| --- | --- |
| Exterior Color: | Tuxedo Black Metallic Fade |
| Interior Color: | Dark Gray |
| Stock Number: | CP16599T |
Price :
$57,995
Plus Sales Tax
2017 Ford Conversion Van - Explorer Vans Mobility | CP16670T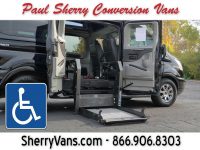 | | |
| --- | --- |
| Passenger: | Mobility |
| Mileage: | 10210 |
| Condition: | Used |
| Drivetrain: | Rear Wheel Drive |
| Engine: | 3.5L V6 DI |
| | |
| --- | --- |
| Exterior Color: | Shadow Black |
| Interior Color: | Graphite |
| Stock Number: | CP16670T |
Price :
$68,900
Plus Sales Tax
Conversion Vans Similar to Ford
Here at Paul Sherry Conversion Vans, we understand that mobility is key to independence and that the right conversion van can make a huge difference in our customer's quality of life.
That is why we are proud to offer a large range of conversion vans, from new RAM ProMaster Passenger Vans to an excellent selection of used conversion vans, including high-quality Ford conversion vans.
Why Buy a Ford Conversion Van?
Since its foundation by the illustrious Henry Ford in 1903, the Ford Motor Company has been a byword for quality and innovation. The practices that revolutionized the motor car industry, such as moving assembly lines and engineered manufacturing sequences, started with Ford.
Despite being the second-largest US-based vehicle manufacturer, and fifth-largest in the world, Ford is still majority-owned and operated by the Ford family.
A focus on family values is a core part of the company and has led to the development of a range of safety and quality of life advancements to keep you and your family as safe and comfortable as possible.
Multiple Finance Options
Because we understand the positive impact a conversion van can have, and how important access to one is, we here at Paul Sherry Conversion Vans work with a range of national banks and local credit unions to find the right finance options for you.
We have a dedicated finance manager who will reach out to you and go through your possible options to make sure that we are working towards what you want to accomplish. We'll also make sure you aware of the steps that need to be taken to get you the financing you need.
You may have heard that credit checks can affect your overall credit score, but don't worry. We make a point of not checking your credit score or sharing your information without contacting you to go through your application first. We don't take any steps without your permission.
You can also rest assured that we won't sell your information to third parties or clog up your email with spam.
Nationwide Delivery Available
We know that not all of our customers are able to make it down to our Ohio showroom, which is why we offer delivery to all 50 states! Finding the right conversion van for you is about getting one that matches your needs, not just the only one that is available in your state.
Our nationwide delivery service allows you to widen your options, making it far more likely that you'll be able to find a conversion van that is right for you. You can order through our website and we'll bring your new conversion van right to your door!
We'll even give you a delivery quote ahead of time, so there are no hidden charges. Just call us on (866)906-8303, or fill out our web form and we'll get back to you with the exact cost of your delivery.
Find the Conversion Van That's Right for You
At Paul Sherry Conversion Vans it's our job to help you find the right van for you needs, so reach out to our committed sales team on (866)906-8303 or by email at [email protected].
You can also visit us in person at our showroom, we're located 20 minutes north of the I-75 and I-70 interchange in Piqua, Ohio.