Conversion Van Buying Guide – Choosing the Best Conversion Van for You
June 28, 2019

Posted by

Ryan
Comments Off

on Conversion Van Buying Guide – Choosing the Best Conversion Van for You
Choosing the right conversion van is an important decision since these vehicles can be a sizable investment. You do not want to spend tens of thousands on a van only to realize you should have opted for different features or a different configuration. To help ensure you choose the best conversion van for you, make sure you keep the following factors in mind.
Why Buy a Conversion Van?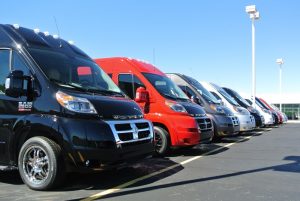 Before getting into the process of selecting a conversion van, take a minute to confirm that this is indeed the vehicle you want to purchase. Conversion vans give you many reasons to love them, including the ability to find used models that have low mileage and are still in good condition. The interior of conversion vans also feels incredibly spacious thanks to the extra headroom inside. There are also numerous configuration options, from storage ideas to mobility ideas to seating choices. You can also buy conversion vans that experts already converted or use them as a base to make your own conversions, allowing for a high level of customization.
Think of the Purpose
The very first thing you should do when shopping for a conversion van is think about why you need a conversion van. Do you need one to help with mobility, such as being able to transport someone in a wheelchair? Do you want a spacious conversion van you can use for camping? Do you have a company that needs a conversion van to shuttle employees or guests in comfort? Do you have a large family and prefer to only need one vehicle? Or will you use your conversion van in another way? The purpose you plan for your conversion van will have a significant impact on the features you look for.
Used vs. New
The other major decision you should make pretty early on is whether you want a new or a used conversion van. Each choice will come with its own advantages and disadvantages, helping you make a decision. Used conversion vans will cost less up front and you should have a vast selection of options since you will consider any model year. They may even have some of their warranty left. By contrast, new conversion vans have no mileage so far, will still have the full warranty, and give you access to the latest features. As a bonus, it is easier to customize a new conversion van exactly how you want. Most dealerships offer the choice of choosing a van on the lot or customizing your own. If you buy a used van, you can still customize it, but this would require working around the existing features, which can increase the challenge.
Van Size
Most conversion vans are similar in size, but there are some that are smaller or larger than the norm. Some models will also have higher interior heights. You may need to actually visit a dealership and look at the various conversion van sizes in person to get a feel for the size you need. Otherwise, it may be hard to visualize them. Remember that bigger vans have the advantage of offering more interior space, letting you make the most of the conversion van and giving you room to stretch out. Those with a taller interior are particularly useful for tall people as they can minimize the risk of either bumping your head or having to hunch over uncomfortably. Meanwhile, smaller vans get better gas mileage, are easier to maneuver, and cost less. Provided it fits your budget, it is better to err on the side of too large. Otherwise, you may find yourself with a van that is not big enough to fit your needs.
Your Budget
It should go without saying that your budget will be a key consideration in the hunt for a conversion van. The thing to keep in mind is that if you can afford to pay more for your conversion van, you will likely get better features. Ideally, you will get the best conversion van that you can comfortably afford. When thinking about your budget, do not forget to consider the related costs, like gas, insurance, and maintenance. Also, factor in the warranty and what it covers during your budget calculations.
Mileage and Age
If you decided you want a new conversion van, then there is no need to consider mileage. If, however, you want a used model, this is a crucial consideration. Generally speaking, you should choose a vehicle with slightly more miles that has strong service records over one with few miles that has not been maintained. Of course, lower mileage does tend to indicate the vehicle is in better shape. Do not forget to consider the mileage in comparison to the age of the conversion van. Do some quick math to see the average number of miles per year. If this figure is too high, then do not buy it unless you have excellent service records and can confirm the vehicle is still in good shape. If the figure seems low, this may indicate it was just sitting around for most of the time. As such, vans with low average yearly mileage are also risky to buy unless you have service records. It is much more likely that the previous owner skipped key maintenance if they barely drove the conversion van.
Mechanical Specs
Decide if you have a preference in terms of the powertrain, drivetrain, and transmission for a conversion van. Most will have similar amounts of power and have either front- or rear-wheel drive. You can, however, find all-wheel drive conversion vans if you prefer. There are also some units that are more or less powerful than the norm. Remember that more power will help easily carry the weight of a fully loaded van, but it may come with a sacrifice in fuel efficiency.
Features
Once you have looked at all of the above factors, you can start examining the safety of the conversion vans that you are considering. Start with safety features, such as airbags and a rearview camera. Then, consider converted features, such as wheelchair ramps. Do not forget to also consider things like the infotainment system, seating, and climate control as well. With the above information in mind, you should be ready to choose the right conversion van for your needs.