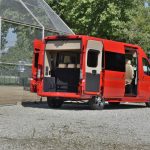 When you think of tailgating, do not forget to consider the RAM conversion van. While most people do not picture a van for tailgating, the RAM conversion van actually checks off all the boxes of what you want for this type of vehicle and even throws in some bonus features.
Rear Doors Swing Fully Open
One of the great things about the RAM conversion van is that the rear doors swing open completely. This means that you can easily access the interior while tailgating, eliminating the need to waste time unloading all your gear from the vehicle. Or just take advantage of the widely opening rear doors to easily get your gear like a cooler, chairs, or even grill out of the van, so you can start tailgating without struggling to remove items from the car.
TV With Premium Sound System
The RAM conversion van also comes with a TV, so you do not have [...]