Posted by

Alysia
Comments Off

on Van Conversion Types and Converters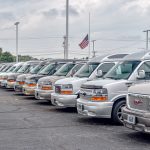 The term conversion van covers a broad range of vehicles. In its most basic elements, a conversion van is a van that can be converted into a bunch of different things. In order to understand the different types, and help you choose which one suits your needs, we will go into detail about the van conversion types and converters. 
Van Conversion Types
There are many types of conversion vans including:
Camper Vans / Class B Vans
Wheelchair Vans
Passenger Vans
Limo Vans
Shuttle Vans
A basic conversion van is typically a completely bare van that can be converted to suit the needs of the customer. This completely bare van can be a full-size van or a mini-van. Full-size conversion vans, such as the RAM ProMaster, are typically converted into business vans. While conversion mini-vans are typically converted into [...]
Posted by

Ryan
Comments Off

on 5 Events When Hiring a Limo Van Can Save the Day
Next time you have a large event, consider hiring a limo van instead of taking multiple cars or just sticking to a regular limo. A limo van is the perfect combination of a passenger van and a luxurious limousine with seating for a large group of people and premium accommodations, like leather seating and extra climate control. You can use a limo van for nearly any situation, but here are some of the times when you will really appreciate having hired one.
Bachelorette and Bachelor Parties – People have been hiring limos for decades to help them celebrate their bachelor or bachelorette parties, but a limo van is an even better idea. They are more spacious so you can bring a larger group without feeling squished or risking your safety. At the same time, you still get all the premium features that make limos so popular for bachelorette and bachelor parties: entertainment systems, tables, [...]