Posted by

Ryan
Comments Off

on Maximize the Life of Your Conversion Van: 4 Maintenance Strategies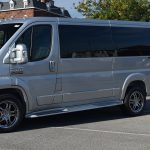 Conversion vans are among the most versatile vehicles on the road. Although they can be a hefty investment to start with, conversion vans are also known for their longevity and reliability for years to come. 
Like all vehicles, you get what you put into your conversion van in terms of its maintenance and long-term care. The more diligent you are about keeping up with regular maintenance tasks, the more your conversion van will reward you. 
The following maintenance routines are crucial to follow as a conversion van owner:
Fluids
Your van's fluids keep its components in excellent working condition. Changing the oil and oil filter as often as your van's owner's manual suggests is a must. Newer vehicles often allow for slightly longer periods between oil changes, but you still need to consider your mileage, too.
In addition to oil changes, you should check your fluids periodically, even if you just set a reminder on [...]
Posted by

Brian Haase
Comments Off

on Getting Your Conversion Van Ready For Spring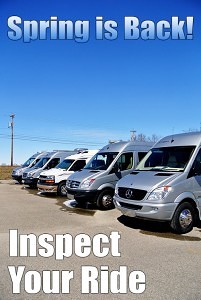 As winter comes to a close and the warm spring weather begins to call you to the open roads, you realize it's time to prepare your conversion van for the year ahead. Going over the mechanical and electrical parts of your van will pay off by giving you a smoother trip without those annoying and avoidable issues. Here's a look at some of the most important aspects that you should check.Inspect-Conversion-Van-service
The Battery
Batteries can die at any time of the year, but it's more likely that the winter cold will push them to their edge. You can visit your local auto parts store and have your battery's life checked for free to be sure that you can count on it while you're on the road. When removing the battery, be sure to wear safety glasses and gloves. You do not want battery acid [...]