The Difference Between a Sherry Van and Waldoch Van
February 20, 2017

Posted by

Ryan
Comments Off

on The Difference Between a Sherry Van and Waldoch Van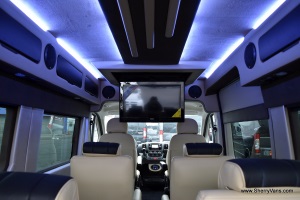 When you start to look at the large selection of vans available at Paul Sherry Conversion Vans, you will notice that there are two main types: those converted by Sherry and Waldoch vans. In either case, you will be looking at a van that has been enhanced to make it more comfortable and modern or simply to include more features or seating. Both Sherry and Waldoch vans are excellent choices, but you may want to learn more about what sets them apart if you are thinking of buying one.
Flip or Stationary TV
One of the first differences you will notice between Sherry and Waldoch vans is the arrangement for the TV. While both have 32-inch HDTVs, the system on the Waldoch van will flip down, meaning that you can keep it against the roof of the van when not in use. By comparison, the 32-inch HDTV in the Sherry van will always be in place, limiting the number of things that can go wrong with it, but meaning that passengers have to be careful not to hit their heads. The speaker system accompanying the TVs also varies slightly, although both come with wireless headphones and storage cases. Either can play Blu-rays as well as DVDs, but the Waldoch vans will play through Rockford Fosgate speakers while the Sherry vans play via a premium JVC stereo.
Wood Grain or Painted Fitting and Other Styling
You will also notice some small differences in the materials used, which you may or may not have a preference for. Waldoch vans have a Wood Burl interior trim while Sherry ones have a Glossy trim. Additionally, the Waldoch van will have a gray color scheme while the Sherry one has a graphite one. The minor stylistic differences continue in the exterior, where the Waldoch vans have painted grille surrounds, but this is chrome on Sherry vans.
Seating Differences
If you compare the seating systems in the two types of vans, you will notice a few other differences along with a long list of similarities. Both have premium leather captain chairs featuring self-leveling armrests and heating in the front. The next two rows in the Waldoch van are also premium leather captain chairs with the self-leveling armrests. The Sherry van adds power recline, cupholders, and swivel bases to both rows with LED-lit cupholders in the third row. The rear seating in the Sherry van is a power-reclining premium leather sofa/bed with two sections, LED lit cupholders, and twin armrests/consoles. This rear row on the Waldoch van is nearly identical, but the sofa/bed has three sections.
You will have to decide which of these sets of features appeals more to you and your particular needs, but either will be an excellent decision. This is particularly true since nearly everything that isn't mentioned above is identical between the vans.