Posted by

Ryan
Comments Off

on Top Three Features of New RAM Conversion Vans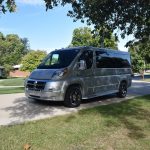 There are many reasons to own a standard van, but the new Ram conversion vans really stand out in their class. Out of the many promising features to offer drivers and passengers, here are a few of the most noteworthy.
Top-Notch Turning Diameter
By far one of the best features in the new RAM conversion vans is its highly agile turning radius. Drivers love that they only need 36 feet to get this van turned around. This makes it much easier to get in and out of tight spots in the city. The ProMaster turns the cliché that vans are hard to park upside down with its maneuverability.
More Room
Drivers and passengers can rest assured that they will ride in comfort with all the space the RAM conversion van has to offer. It ranks best-in-class with the High Roof models providing an impressive 76 inches of interior room. Even the standard version offers an [...]
Posted by

Brian Haase
Comments Off

on Used Conversion Vans vs New Conversion Vans: Which Should You Buy?
When you need to get a conversion van, you need to consider how much your investment in the van should amount to. You can put a great deal of money in a New Conversion Van, or you can get yourself a Used Conversion Van. Each van is going to serve you well, but you need to figure out which investment is going to serve you the best.
Used Vans
When you come to purchase a used conversion van, you need to remember that these vans have varying mileage on them. You can get a van that has many miles on it for a small amount of money. However, you will need to spend more money on a van that has less mileage.

Also, when it comes to Conversion Vans, the accessories on the van are going to alter [...]