Posted by

Brian Haase
Comments Off

on The Difference Between a Conversion Van and a Class B Motor Home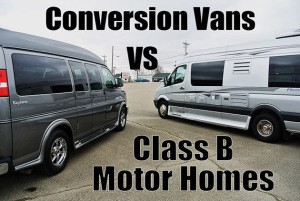 If you are looking for a smaller recreation vehicle (RV) you will almost certainly have come across the terms "conversion van" and "Class B motorhome." You might also be a little confused as to why these terms seem to be applied to vehicles that, on the surface, look almost exactly the same.
The good news is, you aren't the only one confused by these terms. On the outside, there really isn't much difference between a conversion van and a Class B motorhome. Most of the differences are on the inside and have to do with the practical use of these vehicles.
To clear things up, and to make sure you end up with the right vehicle for your needs, we'll be breaking down what makes a conversion van different from a Class B motorhome and what each vehicle is best used for.
What Is a Conversion [...]