Posted by

Alysia
Comments Off

on How Much Does a Good Conversion Van Cost?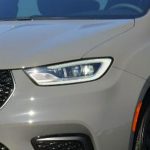 There's no "one-size-fits-all" conversion van. In fact, you can design a conversion van to fit practically any need, ranging from camping convenience to a mobile home to a remote workstation where you can make money from anywhere in the world.
But those different conversion options also correlate to different prices. It can be tough to know how much a good conversion van costs, especially when considering features, amenities, living space, and more.
What Affects Conversion Van Price?
Lots of things affect the cost of a conversion van, including:
The van itself. Conversion vans can range anywhere from $1000-$100,000 in total!
Electricity and electrical systems. Conversion and electrical systems can be anywhere from several hundred dollars to several thousand dollars
Furnishings and other materials. The more extravagant your van, the more it will cost. Furnishings and materials may cost a few hundred dollars to upwards of $2000
Posted by

Brian Haase
Comments Off

on Conversion Van Tailgating: The Better Choice For NASCAR Fans
The hallmark vehicle driven to events by many endearing fans of NASCAR races across the country was formerly the Class A Motorhome. However, fans are changing their favorite vehicle to get them to the races, and the evolution of the Conversion Van is fueling that change. The standard RV was used more for its occupant carrying capacity than its lodging comforts. Conversion vans built on large chassis cost less, seat more people, have plenty of entertainment options, and are downright fun to drive.
New Commercial Van Chassis Used In Modern Conversions
The RAM ProMaster has been a boon to delivery drivers everywhere, but they are also an incredible platform to build conversion vans on. They are hitting the Class B motorhome market by storm with passenger-carrying van conversions becoming hugely popular as the standard vehicles to move people in comfort and style. One of the largest improvements over older conversion vans is the 76″ of headroom these new [...]