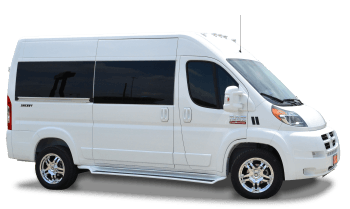 Paul Sherry Conversion Vans is the country's leading conversion van dealer. Our dealership's inventory consists of new conversion vans (RAM ProMaster Passenger Vans), and a large selection of used conversion vans for sale. To compliment our inventory we can provide complete financing options, deliver any purchase nationwide, and even take your current van on trade.
RAM PROMASTER CONVERSION VANS
Our RAM ProMaster vans offer owners more on the road performance with increased interior space for maximum comfort. This combination of performance and luxury make the Sherry Van a standout model amongst other conversion vans for sale. Since the inception of the RAM ProMaster conversion van, we have quickly become the number one dealer in the country!
PRE-OWNED CONVERSION VANS
Not only are we revolutionary in the design in the RAM passenger van, but we carry a large selection of used conversion vans for sale. Our inventory consists of RAM, Ford, Chevrolet and GMC conversion vans, and converters like Sherry, Explorer, Majestic, Rocky Ridge, Southern Comfort and more. We understand that each person's situation is different from the next. That's why we always have a variety of passenger vans to choose from and can fit any budget or lifestyle.
MOBILITY VANS
The RAM ProMaster mobility van is quickly becoming America's preferred wheelchair accessible van. The RAM Sherry mobility van offers unique features that make it the optimal chassis to fit nearly every type of lift. We can add equipment to any ProMaster van on our lot. Browse new and used wheelchair vans for sale, or learn more details about a RAM ProMaster mobility van.
CUSTOM VANS
Some people just can't find the conversion van for sale they're looking for, so we've made it possible to design your own custom Ram ProMaster van. All custom vans are built on the Ram ProMaster on the 136″ or 159″ wheel base. Please contact us about your next custom RAM ProMaster van.
SELL OR TRADE
We are always looking to buy passenger vans to add to our inventory. We can either buy your van outright, or you can trade it in for a new one. Simply fill out our sell my conversion van form, and we will contact you shortly with an offer.
WE OFFER FINANCING
Our finance department is experienced at working with a variety of credit scores and situations. We are easy to contact and can answer any question you may have about financing a van.