Available New Van Conversion Types
It is mind-blowing what you can do with vans. They are very flexible. You can convert them to fit what you need. With the right creativity and planning, you can get a vehicle that fits your lifestyle.
Passenger Van Conversion
The passenger van is one of the most common conversion types. You can create space for how many people you need. You can do nine-seater vans or even fit a dozen. 
You can choose from several available features, like streaming audio systems, LCD screens, and other elements that you can expect from a luxury car. 
The passenger van conversion is perfect for people with a large crew.
Limo Van Conversion
The limo van offers next-level style and comfort. It is for people who want quality that isn't compromised and exclusivity. For some people, the goal is creating comfort rather than increasing the seating capacity. 
You can fit comfortable seating into a limo van to maximize space for each passenger. It is also packed with features for both practical and entertainment purposes. At Paul Sherry Conversion Vans, we use quality materials like leather and fiberglass to create the best product for your needs. 
The limo van is a great choice for anyone who wants to travel in style.
Wheelchair Van Conversion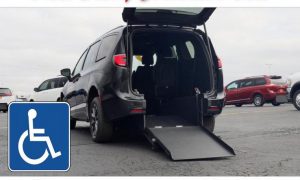 Mobility is a challenge for people who need to use a wheelchair. The lack of accessible vehicles can be a hindrance to daily life. That is why a wheelchair van conversion makes sense.
The idea is to use the space of the van to accommodate wheelchairs. Lifts can be installed for easy on and off-boarding. Special features are included to make it more accessible.
Wheelchair van conversion makes it easy for the user to get into the driver's seat. The design allows you to get the wheelchair in the van using a lift and then drive by yourself. There is no need to rely on anyone else. That is the entire purpose of an accessible mobility van.
Camper Van Conversion
Do you like staying in the great outdoors? Or maybe taking a long road trip along the scenic route? A camper van is a perfect vehicle for anyone who loves to travel.
The main idea is to make the space livable. You get a kitchen, working bathroom, and sleeping space inside the van. It also has enough storage for your personal belongings.
Camper vans make the experience a bit more luxurious.
Build Your Own Vans
You can start with a blank van if you have unique requirements. The idea is to turn the van into exactly what you need. 
At Paul Sherry Conversion Vans, our goal is to give you what you want. Our team will work with you to develop a plan and deliver a vehicle that fits your lifestyle.
If you are interested in a van conversion, contact us today.