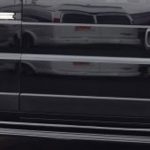 It is mind-blowing what you can do with vans. They are very flexible. You can convert them to fit what you need. With the right creativity and planning, you can get a vehicle that fits your lifestyle.
Passenger Van Conversion
The passenger van is one of the most common conversion types. You can create space for how many people you need. You can do nine-seater vans or even fit a dozen. 
You can choose from several available features, like streaming audio systems, LCD screens, and other elements that you can expect from a luxury car. 
The passenger van conversion is perfect for people with a large crew.
Limo Van Conversion
The limo van offers next-level style and comfort. It is for people who want quality that isn't compromised and exclusivity. For some people, the goal is creating comfort rather than increasing the seating capacity. 
You can fit comfortable seating [...]
Posted by

Brian Haase
Comments Off

on Rocky Ridge Vans Introduce New Line of RAM ProMaster Conversion Vans
Two leaders of the conversion van industry – Rocky Ridge Vans and Paul Sherry Conversion Vans – have teamed up to create a new line of conversion vans built on the strong and durable RAM ProMaster chassis. This new line of conversion vans will consist of top-of-the-line products that give customers the very best in conversion van luxury and functionality.

All new vans in this line will be equipped with features that make them ideal for a variety of customers. First, these vans will offer a comfortable and sizable interior space, allowing drivers to carry a lot of equipment, people, or a combination of the two. The floor is designed to be low, which helps contribute to the easy entry into the vans and it's bountiful headroom.  An unnoticed feature of the RAM ProMaster is the factory [...]