RAM Mobility Van Inventory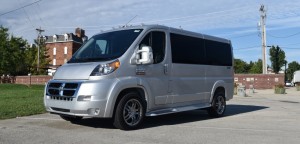 Don't let mobility impairments keep you from getting around. A mobility van can make living your life easier, as you will be able to go to the store, doctor, work, school, or wherever else you need to go. RAM Mobility Vans and Chrysler Pacifica Hybrid Mobility Vans are designed with wheelchairs and other assistive devices in mind, making it easier to get in and out and putting you in control of where you go. Here's some additional reasons to browse out new mobility vans for sale:
Buy New Vans for Guaranteed Quality
While used mobility vans are a great way to save money, many people prefer buying a new mobility van as a way to guarantee that the van is in perfect condition. New mobility vans will also offer the latest features and innovations, both in terms of assistive features, like wheelchair lifts, and in terms of safety. With a new van, you will be able to use it for longer than a used one, without having to deal with the hassle of replacing it as quickly as you would otherwise. That said, many people will still prefer used mobility vans as a way to save money and get more features for the same price.
Choose the Configuration You Need
The new mobility vans for sale at Paul Sherry Conversion Vans aren't one size fits all. We understand that everyone has unique requirements from their vans, which is why they can be customized and feature a range of layouts. We offer mobility vans that can fit one wheelchair or those that can fit several without a problem. There are also multiple lifts to choose from, including a range of styles. This way, you can fit as many wheelchairs or standard seats as you need inside the van and get the lift you are most comfortable with.
Check out the selection of new mobility vans for sale at Paul Sherry Conversion Vans in person or via our online inventory.