How To Custom Order Van Conversions
July 13, 2022

Posted by

Alysia
Comments Off

on How To Custom Order Van Conversions
Conversion vans are complicated items to find and purchase. With the help of Paul Sherry, your conversion van journey is quick, easy, and simple. Our staff has the knowledge and expertise to help you select the make, model, features, and conversion that fits into your lifestyle and budget. This blog walks you through the three main steps of custom-ordering your conversion van from Sherry Vans. 
Choose Your Van Make and Model
There are a variety of makes and models out there that are ideal for conversion vans. At Paul Sherry, the number one vehicle we see converted is the RAM ProMaster. However, we carry numerous makes including Chrysler, Dodge, Toyota, RAM, and others. When purchasing a van to convert, you will want to consider a few factors—how are you going to use it, what conversion are you going to need, and how long do you plan to use it? These questions can help narrow your search to find the perfect conversion van make and model for you.  
Pick Your Features
The next step in custom-ordering your conversion van is determining the features you want on your van. What color do you want it to be? What trim package do you want to get? Do you want upgrades? Automatic or manual? Front-wheel drive or all-wheel drive? The features you select will further narrow your conversion van choices. 
Choose Your Conversion/Converter
Finally, the last step in the process is to choose your conversion and converter. What type of conversion are you looking for? Do you need it for work? Are you looking to use the van as a shuttle? Do you need mobility access? Are you wanting side or rear entry for a wheelchair? Do you want to convert it into a camper? The conversion you are looking for will influence the converter available to select. 
Once you have a good idea of the conversion you want, you can select from a list of our converter partners. We only work with high-quality converters who are the best at what they do, so no matter who you select, you will get a strong, durable conversion from them.
Purchase Your Custom Order Van Conversions From Sherry Vans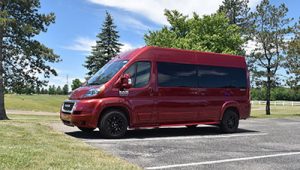 When you need a high-quality conversion van for yourself or your business, you can rely on the staff at Sherry Vans to assist you. Our friendly team of experts are here to help you every step of the way through the process. We can help you select the make and model of a vehicle that will suit your needs. Then we can help you decide on the features that are important to you. And finally, we can provide you with a list of the different converters and what they offer. 
Once you have created your custom conversion van, our finance team is available to get you the car you deserve at a price you can afford. We work with a number of banks and credit unions in the area allowing us to offer competitive rates. 
Are you ready to custom-order a conversion van? Stop by our lot, browse our inventory online, or call us at (866) 906-9303. A member of our team is always available to help.