Posted by

Ryan
Comments Off

on 2021 New Sprinter Van vs. RAM ProMaster Van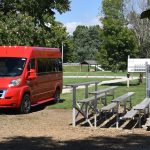 Both the 2021 Mercedes-Benz Sprinter Van and the 2021 RAM ProMaster Van have a lot to offer in terms of versatility, performance, and technology. While the Sprinter Van provides luxurious options to complete your van package, both vans provide excellent customization options, safety features, and capabilities to make them work for you.
Van Specs Comparison
The ProMaster and Sprinter vans are similar in several ways, making it challenging to determine which one's right for you. Here, we compare their specs to help you decide.
Performance and Tow Capacity
The RAM ProMaster includes one engine: a 3.6L Pentastar® V6 with a 6,910-pound towing capacity. You can expect the van to reach 60 mph in just over 8 seconds, even with a full load. 
The Mercedes-Benz Sprinter has a 5,000-pound towing capacity with its base engine, a 2.0-liter 4-cylinder. However, you can opt for the 6-cylinder diesel to boost the towing capacity to 7,500 pounds. At best, [...]
Posted by

Brian Haase
Comments Off

on Mercedes-Benz Sprinter Conversion Van vs Ram ProMaster Conversion Van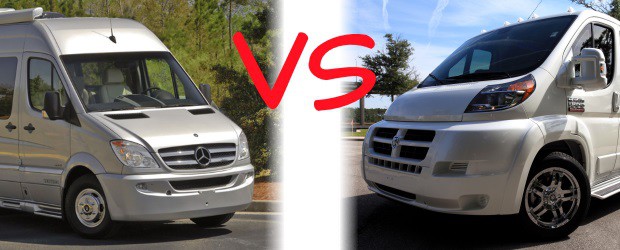 Thinking of a Mercedes-Benz Sprinter Conversion Van? Think again!
When it comes to choosing between the Mercedes Sprinter Conversion Van and other Conversion Vans on the market, the total cost of ownership can be a significant factor in your decision. For many years, the Mercedes Sprinter was thought to be the only "Euro" style conversion van on the market. But not anymore! The Ram ProMaster Conversion Van has "Euro" Van styling with qualities like nothing else in production! With features like front wheel drive, taller interior height and a lower cost of ownership, the Ram Promaster will be a common choice for those browsing for a Mercedes-Benz Sprinter Conversion Van.
The Ram ProMaster is built on the Fiat Ducato platform. This configuration brings a front-wheel drive platform to the conversion van market. The power train is the Pentastar 3.6 liter [...]