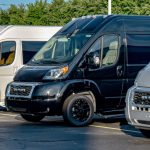 A conversion van was once one of the most popular types of vehicles for travel enthusiasts who longed for adventures with their families or friends. In more recent years, we hear more about RVs and even large SUVs taking over the job. Are conversion vans still made? If so, what do they offer to modern drivers?
Are Conversion Vans Still Being Produced?
Yes, new conversion vans are still being produced and manufactured. You might just not hear about them as much because they aren't as widely used as they once were. However, today's conversion vans are still built for convenience and comfort, just like they always have been.
Sherry Vans is one of the top selling dealerships of new conversion vans available for consumer purchase in the USA. We have 7, 9, and 12-passenger conversion vans for personal and commercial use, as well as mobility vans that can be tailored to the unique needs of [...]