FAQ: Are New Conversion Vans Still Made?
A conversion van was once one of the most popular types of vehicles for travel enthusiasts who longed for adventures with their families or friends. In more recent years, we hear more about RVs and even large SUVs taking over the job. Are conversion vans still made? If so, what do they offer to modern drivers?
Are Conversion Vans Still Being Produced?
Yes, new conversion vans are still being produced and manufactured. You might just not hear about them as much because they aren't as widely used as they once were. However, today's conversion vans are still built for convenience and comfort, just like they always have been.
Sherry Vans is one of the top selling dealerships of new conversion vans available for consumer purchase in the USA. We have 7, 9, and 12-passenger conversion vans for personal and commercial use, as well as mobility vans that can be tailored to the unique needs of your passengers. 
What are the Benefits of Owning a Conversion Van?
There are several benefits of owning a conversion van, whether you want one for business or pleasure. That's because conversion vans can quite literally convert to just about any use, like transporting passengers around town as a transportation service or toting a group of junior soccer players to their next game.
Some other conversion van uses include:
Private school transportation

Shuttle buses

Family vans

Travel

Tiny homes or camper conversions

Mobility vans for people with disabilities 
Regardless of your intended purpose, every conversion van comes with a wide range of perks. Conversion vans can be a much more affordable option than an SUV to get all the features you want and the configuration you need. They also tend to have excellent fuel mileage for their size — even better than many SUVs! 
Can You Custom Order a New Conversion Van?
Yes, you can place a custom order for your new conversion van. Sherry Vans has a large inventory of brand-new conversion vans in multiple configurations available. 
However, if you have your heart set on a specific configuration that we don't have in stock, we are happy to order one for you. Just give us a call or stop into the dealership to talk to a member of the sales team about ordering your custom van.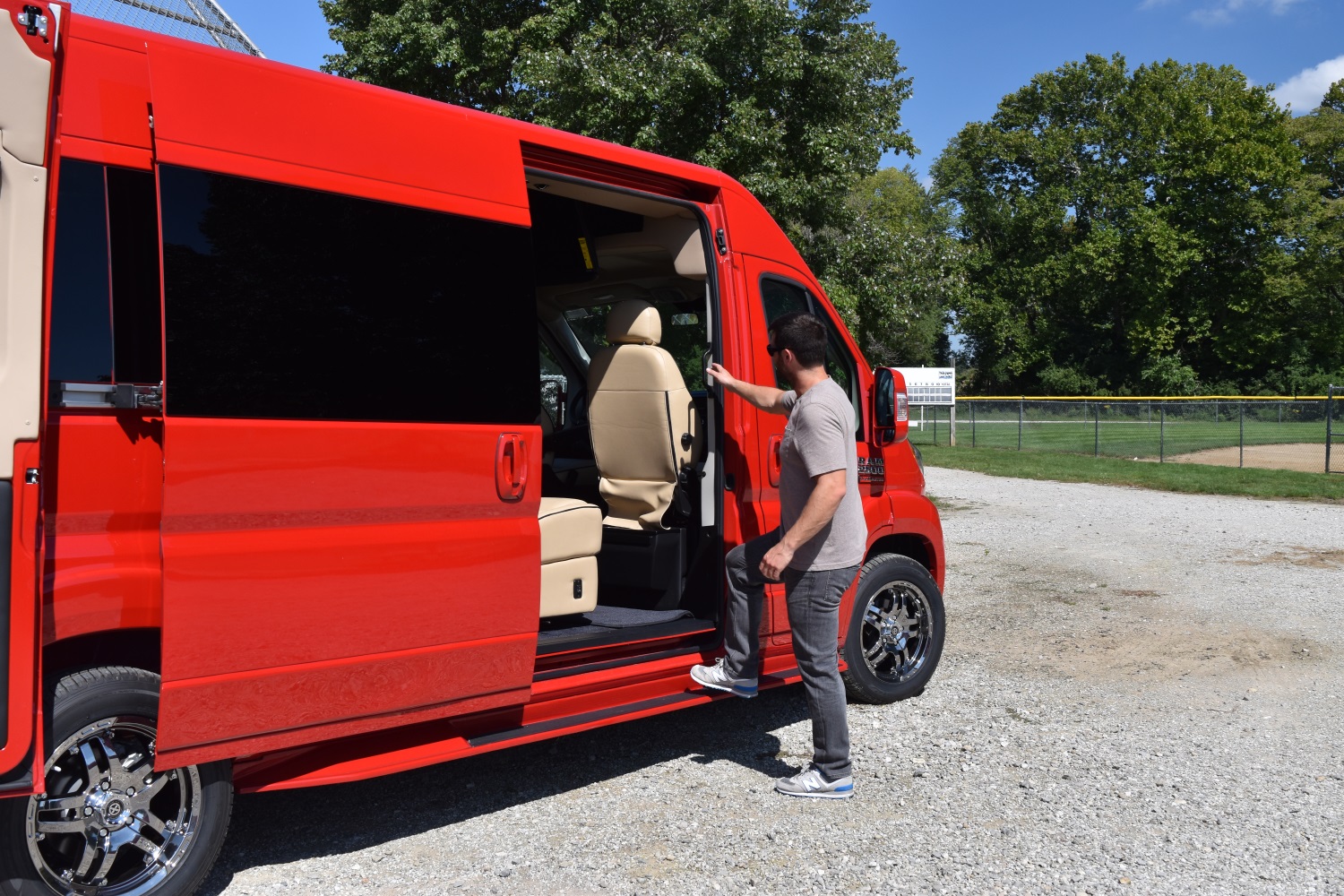 What are Some Customizations to Consider for a Conversion Van?
The RAM ProMaster Conversion Van can tailor to just about every need you have, whether you want to use it as a family vehicle, a travel van, or a commercial transportation van. From wheelbases and roof heights to seating preferences and convenience features, there are virtually endless configurations for your conversion van.
You can choose your model, engine, towing capability, packages, and more. Our knowledgeable sales staff can walk you through your options and help you decide on the configuration and features that best fit your goals for your van.
How Do You Finance a Conversion Van?
Conversion vans are pricier than most cars on the road, but you can finance a new conversion van similar to how you'd finance a car. This ensures that you get the vehicle you want at a price you feel comfortable paying each month.
Sherry Vans provides financing options to help you get the van you want. You can choose from in-house financing through one of our many financial partners or you can get your own financing from any lender that provides car loans. If you're interested in financing through us, you can fill out an online form to start the process.
Buy a New or Custom Conversion Van Today
When you're ready to start the process of searching for your new conversion van or ordering a custom model, come see us at Sherry Vans. We're happy to talk about custom orders and financing options for your new van once it's ready to go.