RAM Conversion Van Inventory
RAM ProMaster Conversion Vans Introduction
Meet The ProMaster Van
If you aren't already familiar with the RAM ProMaster conversion van, you will want to get to know this van from Paul Sherry Conversion Vans. It takes the spacious, powerful, and efficient RAM ProMaster and adds a range of conversions that can help it meet your needs – whether that is taking passengers to your destination, fitting a wheelchair, or something else.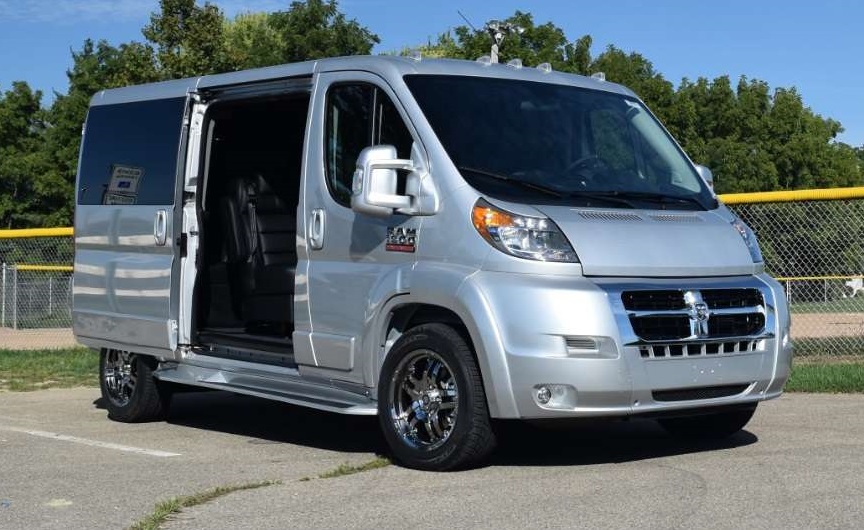 Building on Great RAM ProMaster Specs
The RAM ProMaster conversion van is based on the already impressive RAM ProMaster, giving you all the features of that particular van that you love. Many of these features cannot be found on any other conversion van. This means that you have the best-in-class fuel economy of over 20 mpg, the best-in-class turning radius of 36 feet, and the best-in-class interior height of 6 feet, 4 inches. The RAM ProMaster conversion van also has the 3.6-liter V6 Pentastar engine and front-wheel drive found in the regular version of the van, which lets it tow 6,910 pounds. 
Interior Setup for Passenger Comfort & Other Noteworthy Features
The RAM ProMaster conversion van can be configured to seat either seven or nine passengers, and the seats are designed for comfort as part of the limousine-style interior. There is a power reclining sofa as well as reclining captain's chairs in the center and mid-seats with a swivel base as well as a slide track. The seating features a full leather face and there is plenty of courtesy lighting throughout so passengers can see each other and have conversations with ease.
The RAM ProMaster conversion van also has privacy shades with custom pleating and a limo tint for added privacy. The exterior has custom paint, side-door-assist grab handles, and running boards with non-slip steps. To keep the driver and passengers safe, this conversion van has front-impact, side impact, and overhead airbags, stability control, and anti-lock brakes.
Uses for the RAM ProMaster Conversion Van
With comfortable seating for up to nine people and a range of features, the RAM ProMaster conversion van can be used for a wide range of tasks. Hotels can use it as an airport shuttle, limousine services,  sports teams can use it to go to games, schools can use them for smaller field trips, or larger families can use them to take the entire family to their destination. The possibilities for using these vans are limitless. There are even additional conversions, such as limo or wheelchair options, to help the RAM ProMaster be used for special functions such as mobility or as a party van for celebrations and bachelorette parties.
Features such as 20+ MPG, 6'4″ interior height, additional sound insulation and a 36′ turning radius make our RAM ProMaster conversion van unique to other conversion vans available. Not only will the RAM ProMaster van out perform all other luxury passenger vans, but the refined Sherry Vans interior will truly set you apart from the rest. Click here to request more information.
RAM Conversion Van Warranty
Our RAM ProMaster conversion vans are backed with a 5-year / 100,000-Mile Powertrain Limited Warranty. The Powertrain Limited Warranty covers the cost of repairs on all covered powertrain components – engine, transmission and drive system – for most new RAM vehicles. Coverage also includes free towing to the nearest Chrysler, Jeep, Dodge or Ram dealer, if necessary.
The warranty is transferable too, so if you sell your vehicle during the warranty period, the new owner will be covered. Plus, a 3-Year / 36,000-Mile Limited Warranty provides bumper-to-bumper coverage of your vehicle, from the body to the electrical system.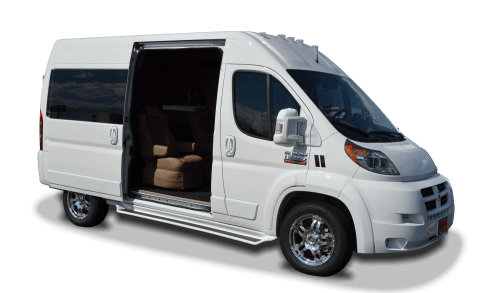 RAM ProMaster Conversion Van Features and Specs
RAM ProMaster Chassis

Sherry Vans Interior Conversion

Best in Class Fuel Economy at 20+ MPG

Best in Class Interior Height at 6'4″
Best in Class Interior Height at 6'4″

Best in Class Turn Radius at 36′

32″ LED-LCD HDTV
Ram ProMaster Conversion Van Quick Links:
Thanks for visiting our website. If this page does not answer your questions, please contact us at (866) 906-8303.