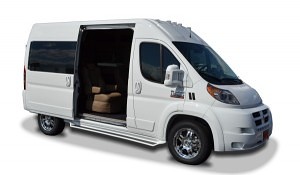 The Ram ProMaster platform has many advantages to make it the premier platform for a conversion van.
FRONT-WHEEL-DRIVE SYSTEM (SEGMENT-EXCLUSIVE)
Light, nimble and responsive, the 2014 Ram ProMaster features a front-wheel-drive system that allows impressive handling when navigating crowded city streets, highways or inclimate weather. With fewer parts to maintain, our front-wheel-drive system offers more room for the Best-in-Class floor-to-ground step-in height More Cargo Capacity than Ford, Chevrolet or GMC Conversion Vans.
36-FOOT TURNING CIRCLE (BEST-IN-CLASS)
When you're navigating crowded city streets and narrow back alleys, you need the maneuvering capability to get in and out quickly. Our class-leading 36-foot turning circle helps make almost every three-point turn a five-star experience.
4,400 LB PAYLOAD (BEST-IN-CLASS)
With Best-in-Class 4,400-lb payload heavy duty hauling, impressive efficiency and high mileage between oil changes, the Ram ProMaster keeps you moving.
Safety – Utility  – Styling – Performance – Interior Design
Quick Links