Posted by

Hannah
Comments Off

on New Touring Van Features Buyers Often Look For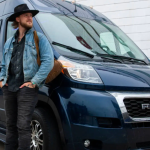 Touring van's size and comfort has made them a long time favorite among travelers, whether you're on the road full time or just looking to take the occasional road trips. However, not all touring vans are created equal, you need high quality parts and amenities to make your van is really up to trip, not to mention keeping it comfortable for hours at a time.
If you're looking for an enjoyable trip, here are some of the key new touring van features you should prioritize.
Spacious Interior
Vans are large vehicles by nature, but that doesn't necessarily mean that they have space where it really counts. For a good touring van you need to make sure you have a spacious and functional interior. That means hidden but accessible storage, plenty of legroom, and room to stretch.
Features like flexible seating, where you can move or remove seats as needed, can make [...]