Buy A Sprinter Conversion Van
Complete the form below to contact our expert staff and find the Mercedes Sprinter Van that fits your buying criteria.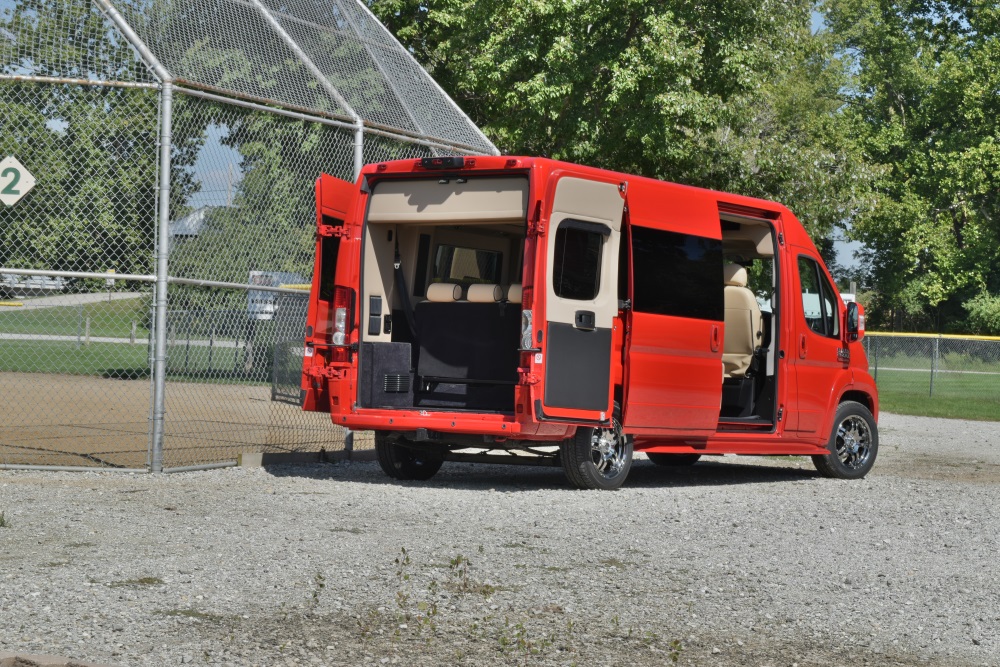 America's Top Van Dealership
Additional vans entering the market with similar benefits van will give current Sprinter conversion vans for sale competition within the segment. Throughout the years, the Sprinter van has served and provided many passengers the transportation they've always looked for. But in today's market, the Sprinter has more competition than ever. With as many features making the Sprinter unique, it has in similarities to the RAM ProMaster.
Sprinter vans vans for sale are commonly found with rear wheel drive. This does offer some benefits in a few circumstances. It is often believed that rear wheel drive vehicles can tow more when loaded properly. But when the van has enough power, in most recreational circumstances front wheel drive is sufficient and often preferred in winter conditions. Rear wheel drive also forces Sprinter designers to raise the floor in order to make room for the drive shaft to connect to the rear axle.
For more information about Sprinter van details, please contact us at 866-906-8303 or visit us at 8793 N County Road 25A, Piqua Ohio, 45356.
Sprinter Conversion Vans For Sale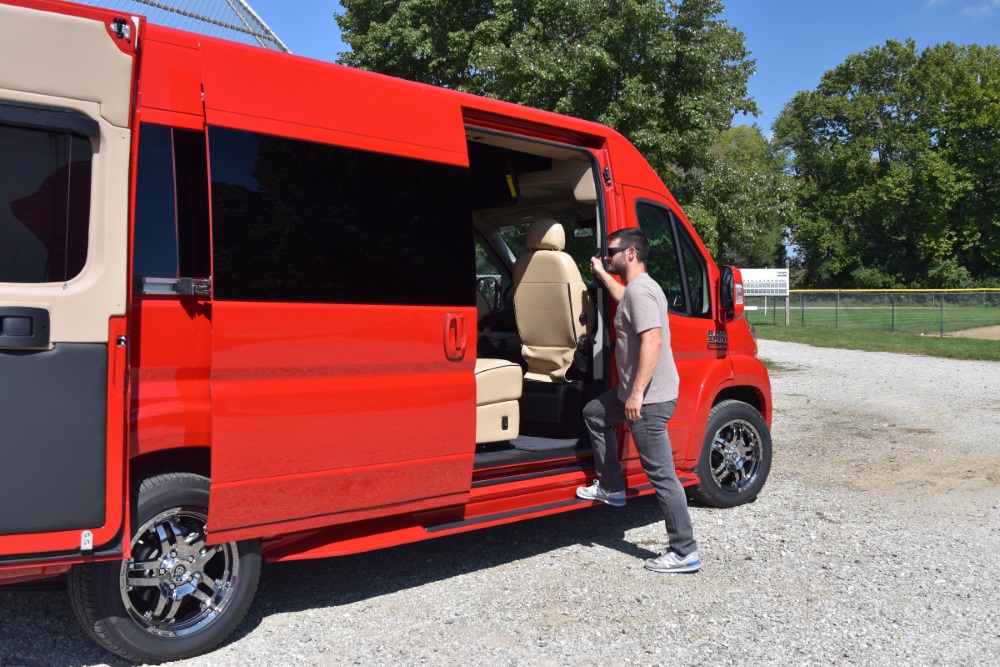 Paul Sherry Conversion Vans, located in Piqua, Ohio does offer a premium selection of sprinter conversion vans for sale. Active in buying and selling conversion vans, we regularly have a variety of Sprinter's. Our staff is eager to help you find the right van to suite your lifestyle.
About Sprinter Vans
Although most "Euro" style vans are competitors to each other now, they were once one in the same. Both vans spawned from the Dodge Sprinter which was built in North America from 2003-2009. Rather than redesign the aging Dodge RAM Van which had used the same basic body and layout since the 1970s and was discontinued in 2003, DaimlerChrysler chose to replace it with the Sprinter. In 2009, the Dodge Sprinter van was forfeited and had Dodge/RAM rethinking the full size van product line which eventually lead to the Fiat Ducato platform. In North America, the Fiat Ducato of Europe has been rebranded for Dodge as the RAM ProMaster.
Sprinter Conversion Van Popularity
In today's market, Sprinter conversion vans are built to allow maximum interior height. The added height found within these vans allow for passengers to stand up either parked or while under way. This feature appeals to those who travel long distances or need the extra space for storing recreational gear.
Another common feature found on the Mercedes Sprinter van is the sliding side door. This feature allows for maximum entry space without needing any extra space adjacent to the van. Traditional domestic conversion vans have barn door style doors which require more space to operate when entering and exiting the van. One common overlooked feature of the Sprinter conversion van is the driver and front passenger view. These Euro styled vans offer a higher ride for larger view. Because your sitting position is higher within the van, it gives you a wider view of the road for a more spectacular view. The most popular feature among Sprinter van enthusiasts is the availability of the gas or diesel engines. Buyers are often split between the benefits of both engines, but lucky for them a choice is now offered by other conversion vans on the market.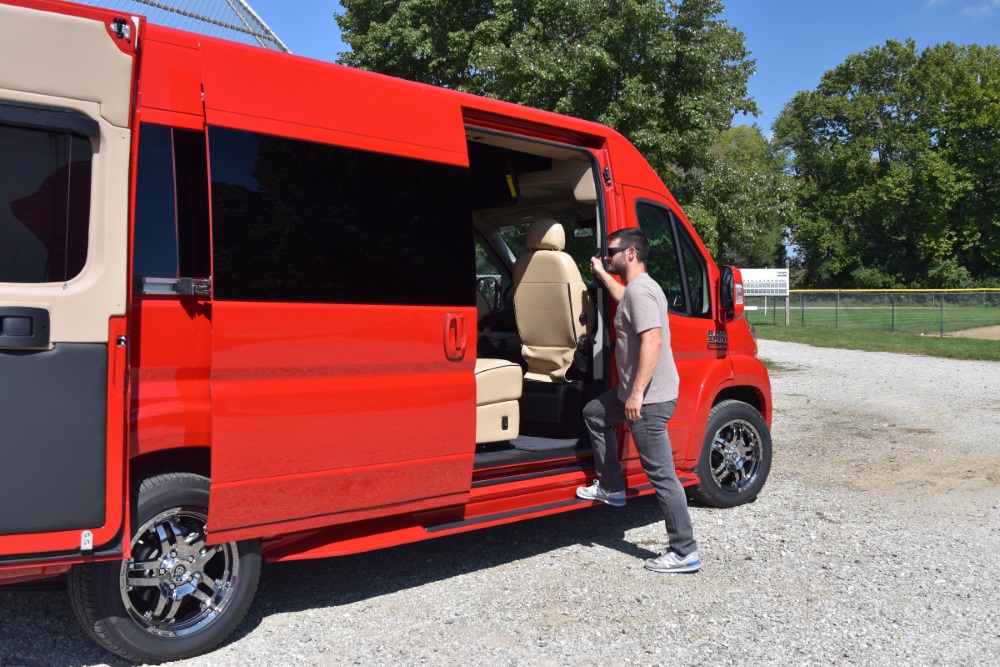 Sprinter Conversion Van Articles

2021 New Sprinter Van vs. RAM ProMaster Van
Both the 2021 Mercedes-Benz Sprinter Van and the 2021 RAM ProMaster Van have a lot to offer in terms of versatility, performance, and technology. While the Sprinter Van provides luxurious options to complete your van package, both vans provide excellent customization options, safety features, and capabilities to make them work for you.
Van Specs Comparison
The ProMaster and Sprinter vans are similar in several ways, making it challenging to determine which one's right for you. Here, we compare their specs to help you decide.
Performance and Tow Capacity
The RAM ProMaster includes one engine: a 3.6L Pentastar® V6 with a 6,910-pound towing capacity. You can expect the van to reach 60 mph in just over 8 seconds, even with a full load. 
The Mercedes-Benz Sprinter has a 5,000-pound towing capacity with its base engine, a 2.0-liter 4-cylinder. However, you can opt for the 6-cylinder diesel to boost the towing capacity to 7,500 pounds. At best, […]

Mercedes-Benz Sprinter Conversion Van vs Ram ProMaster Conversion Van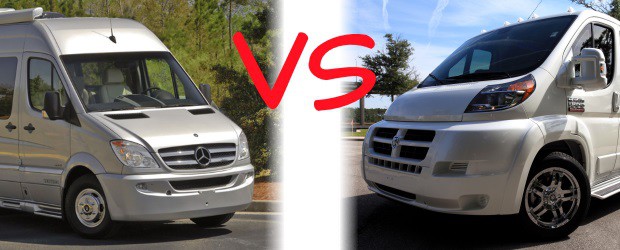 Thinking of a Mercedes-Benz Sprinter Conversion Van? Think again!
When it comes to choosing between the Mercedes Sprinter Conversion Van and other Conversion Vans on the market, the total cost of ownership can be a significant factor in your decision. For many years, the Mercedes Sprinter was thought to be the only "Euro" style conversion van on the market. But not anymore! The Ram ProMaster Conversion Van has "Euro" Van styling with qualities like nothing else in production! With features like front wheel drive, taller interior height and a lower cost of ownership, the Ram Promaster will be a common choice for those browsing for a Mercedes-Benz Sprinter Conversion Van.
The Ram ProMaster is built on the Fiat Ducato platform. This configuration brings a front-wheel drive platform to the conversion van market. The power train is the Pentastar 3.6 liter […]