Ram ProMaster Fuel Economy: What We Know and What You Can Expect
June 2, 2014

Posted by

Brian Haase
Comments Off

on Ram ProMaster Fuel Economy: What We Know and What You Can Expect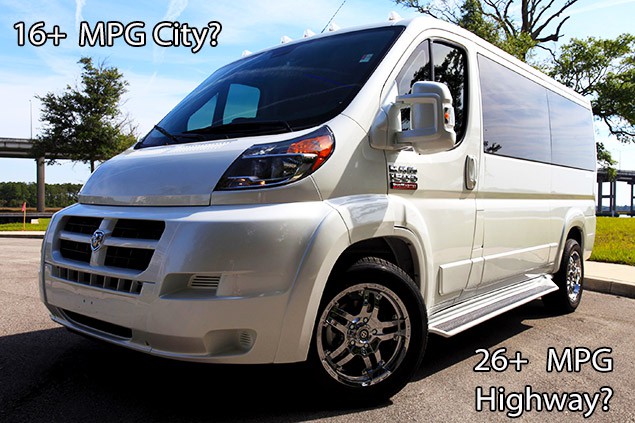 The end of Mercedes and Chrysler's automotive relationship also meant the end of the Sprinter as the commercial van of choice for Dodge division. Enter Fiat and emergence of its Ducato van as a replacement for the recently spun-off Ram brand. Now reformulated for American consumption, the Ram ProMaster
But the one question that's on everyone's minds is "how well it'll do when it comes to fuel efficiency?" Since the ProMaster is exempt from EPA fuel economy testing, there aren't any official claims just yet in terms of fuel economy. Whatever the numbers are, they're probably much better than those of the old full-size Ram Van – a vehicle that enjoyed a 32-year-long run with relatively few changes.
What We Know
What we do know is this: under the hood of the Ram ProMaster is Chrysler's stalwart 3.6-liter Pentastar six-cylinder engine. Coupled to a six-speed automatic transmission, the 3.6-liter motor produces a healthy 280 horsepower and 260 pound-feet of torque. Later on, buyers will get another choice: a 3.0-liter turbodiesel four-cylinder engine offering 174 horsepower and an abundant 295 pound-feet of torque. Power flows to the front wheels via a six-speed automated manual transmission.
We also know that the Ram ProMaster is a much different and more fuel efficient beast than the Ram vans of old and it's plenty different from the previous Sprinter conversion vans for sale. Thanks to its front-wheel drive layout, the ProMaster offers a low and virtually flat load floor while maintaining cargo and load capacities that outstrip all of the traditional U.S. van offerings and even recent rivals like the Nissan NV full-size van.
What to Expect
According to Automobile Magazine, the Pentastar-equipped ProMaster is expected to achieve up to 18 mpg in city driving and 26 mpg on the highway. Those figures seem more in line with the average mid-size minvan rather than an Italian workhorse of a van, but it's pretty impressive for a vehicle designed with commercial duties in mind. The folks at Truck Trend also came up with a rough estimate of around 17 to 18 mpg around town.
However, there's still no word as to how well the ProMaster will perform with the 3.0-liter turbodiesel. As a result, there's been plenty of speculation over at the Ram ProMaster forum about the diesel's potential fuel economy. Most guesses so far have centered around the 20 mpg mark for city driving and up to 30 mpg overall.
These speculative numbers offer an outstanding advantage, especially for those in search of a fuel-efficient Conversion Van platform. The ProMaster's impressive fuel economy estimates potentially make it one of the most efficient platforms for outfitters to build a conversion van on. And that is just one of the many Reasons Why You Should Buy A Conversion Van.