Posted by

Brian Haase
Comments Off

on Buying A Conversion Van Over a SUV?
If you are thinking about buying an SUV, you should think a little more deeply and consider your other options. When doing so, you can see that a conversion van offers more, and you will do better with it in most cases. With this in mind, here are six reasons to purchase a conversion van over a SUV.
Price
First and foremost, if you want to save some cash when buying your vehicle, you should consider a conversion van. Simply put, they are less expensive to buy, and you can drive off the lot with thousands of dollars in savings. This is especially true when you start comparing equipment.
Fuel Economy
When you own an SUV, there is a pretty good chance that you will spend quite a bit more money on just fuel. Think about it, if you drive the average SUV, you will struggle to get 20 MPG (if you're lucky), and you will waste [...]
Posted by

Brian Haase
Comments Off

on Ram ProMaster Fuel Economy: What We Know and What You Can Expect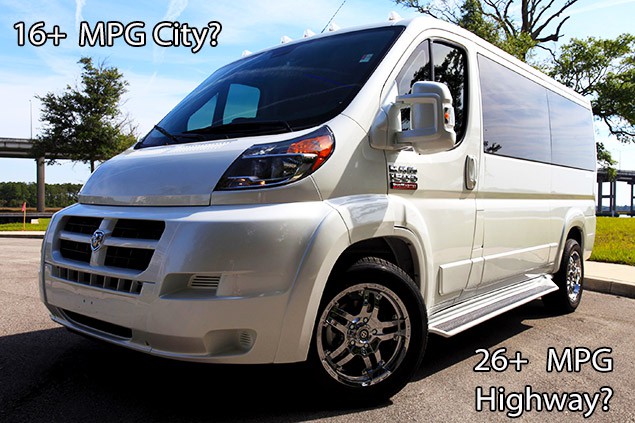 The end of Mercedes and Chrysler's automotive relationship also meant the end of the Sprinter as the commercial van of choice for Dodge division. Enter Fiat and emergence of its Ducato van as a replacement for the recently spun-off Ram brand. Now reformulated for American consumption, the Ram ProMaster
But the one question that's on everyone's minds is "how well it'll do when it comes to fuel efficiency?" Since the ProMaster is exempt from EPA fuel economy testing, there aren't any official claims just yet in terms of fuel economy. Whatever the numbers are, they're probably much better than those of the old full-size Ram Van – a vehicle that enjoyed a 32-year-long run with relatively few changes.
What We Know
What we do know is this: under the hood of the Ram ProMaster is Chrysler's stalwart 3.6-liter Pentastar six-cylinder engine. Coupled to a [...]