Old School Cool: 1977 Chevrolet Hop Cap Van Tastic Conversion Van
May 23, 2014

Posted by

Brian Haase
Comments Off

on Old School Cool: 1977 Chevrolet Hop Cap Van Tastic Conversion Van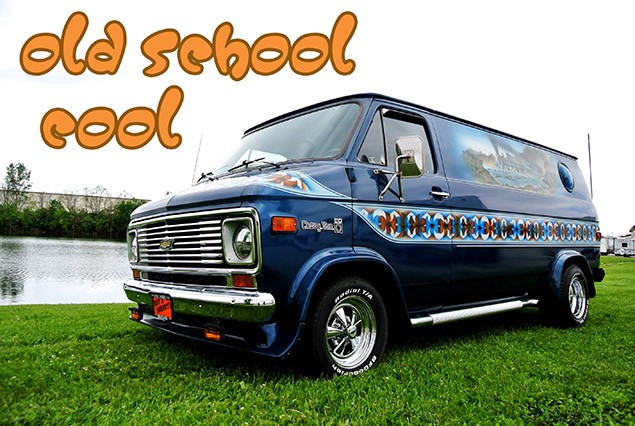 The classic Conversion Van is as important to American culture as hot dogs and apple pie. Well, maybe not that important. But conversion vans have been a part of our automotive landscape since the early 1970s. Even though they've evolved over the years, these incredible vehicles still have their rightful place.
As a dealership mascot, we happen to have a 1977 Chevrolet Hop Cap that could easily pass as the dictionary definition of a van conversion. It has everything you'd expect from a 1970s era conversion, including hardwood floors and plenty of shag. It also has a killer paint job that would make any child of the 70s swoon.
The Early Years
The history of the conversion van goes back to the 1970s and a little-known company in Goshen, Indiana. Back then, van conversions were all about being a proud member of the counterculture. A conversion van was the hippie's way of saying, "I'm cool; respect that!" They also doubled as portable homes for those hippies who decided conventional living arrangements didn't meet their standard of coolness.
In order to have a really cool conversion van, you also had to have an incredibly cool mural painted on the side. The industry gave rise to lots of budding artists who, through the haze of all the 70s had to offer, managed to paint some pretty impressive murals. Sometimes you had to be under the influence to understand what was going on, but they were great works of art nonetheless.
The Growing Up Years
The late 1980s brought puberty to the conversion van industry as more and more families got in on the gig. We'd venture to guess that the conversion van beginning to grow up was the direct result of many of the hippies getting married and raising kids. At any rate, crescent moon couches and porthole windows gave way to captain's chair seating and custom interior lighting.
The 1980s also saw a push toward better fuel economy. This resulted in lighter vans with interiors made of plastic and fiberglass rather than wood and steel. After all, we had to be practical. Unfortunately, all of that growing up eventually led to the turn-of-the-century conversion vans that look nothing like the old classics.
The Modern Conversion Van is an exercise in luxury, combined with just enough utility to separate the vehicles from their standard passenger brethren. One thing is for sure: no one is painting murals like they used to. You can forget the shag as well. Like the muscle cars of the 50s and 60s, the classic 1977 Chevrolet Hop Cap is a relic of the past. But we plan to keep her alive just as long as we can.