Check Out the Excellent Selection at Paul Sherry Conversion Vans in Ohio
November 18, 2014

Posted by

Brian Haase
Comments Off

on Check Out the Excellent Selection at Paul Sherry Conversion Vans in Ohio
At Paul Sherry Conversion Vans, we are pleased to provide a selection of New and Pre-Owned Conversion Vans to Ohio residents as well as to other folks throughout the country. We are grateful to our customers for making us the leading conversion van dealer in the nation! Take a look at just a few of the reasons why so many people consider Paul Sherry Conversion Vans their go-to place for dependable vehicles.

Quality Made Products
The people who visit us at Paul Sherry Conversion Vans do so for a variety of reasons. Some customers want to find a van they can use for work while others are looking for a vehicle that is big enough to seat a large family. No matter the reason, we understand the importance of providing a selection of quality made, dependable vans to our customers. We strive to satisfy the needs of every customer and put them in a van they will love!
First-Rate Customer Service
Many of our shoppers appreciate the excellent customer service they receive at our dealership. Our sales representatives make it a point to listen to each customer to find out what he or she is looking for in a van. Then, we suggest several vans that suit the customer's needs and preferences. Customers are welcome to peruse our entire inventory of new and pre-owned vans to see all we have to offer. Our sales representatives are knowledgeable, courteous and always happy to answer customer questions. We try our best to help customers find the perfect van for their lifestyle.
A Large Inventory
Customers who visit us online or at our dealership will find that we have a wide selection of new RAM ProMaster Conversion Vans. These spacious vans offer an owner excellent Fuel Economy as well as important safety features like dual side curtain airbags. Customers who are looking for specific options can even design their own Custom Ram ProMaster Van! We also have many pre-owned conversion vans in a variety of makes. In short, a shopper visiting our dealership has the opportunity to find the van he or she wants at a price that fits with the family budget.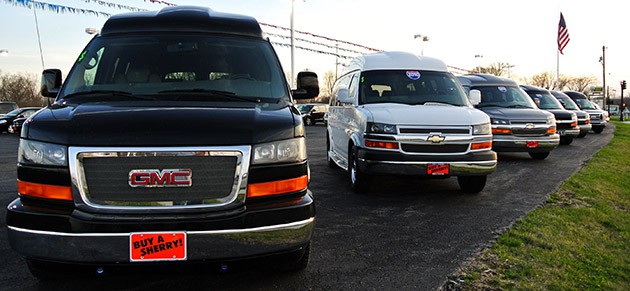 Financing Options and Delivery Arrangement
We buy vans outright as well as accept Trade-Ins from customers. We have Financing Services for customers with all credit score levels that can help them to get the van they want at an affordable price. In addition, we are able to help arrange delivery of vans to people across the United States. We make the process of shopping for and buying a conversion van simple and convenient.
Contact our team at Paul Sherry Conversion Vans and let us help you get into a reliable new or pre-owned conversion van today!