A Sherry Van Road Trip: Sweet Caroline, What a Sweet Ride
October 1, 2014

Posted by

Brian Haase
Comments Off

on A Sherry Van Road Trip: Sweet Caroline, What a Sweet Ride
My family hadn't visited relatives down south in over two years. Back then, we had rented a far-too-small minivan, drove all night and arrived in Hilton Head exhausted. This time would be different.
Early Saturday morning, in front of our Kansas City home, my wife and I loaded luggage into our new RAM Sherry Conversion Van. Our oldest son, nearly six-foot tall at age 15, took a seat in the back, where he stretched his legs and promptly nodded off. Our younger two, Lisa and Eric, bickered over entertainment before focusing their sibling rivalry into a competitive round of Mario Kart displayed on the 36" HDTV.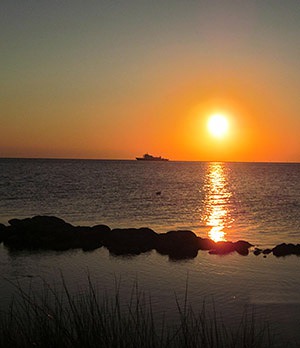 "That beats coloring books and magnetic checkers for road-trip entertainment," my wife commented as I pulled onto I-70.
"No kidding! With the kids occupied and plenty of leg room, we might be able to drive straight through instead of stopping in St. Louis." I glanced at her and grinned as she batted my shoulder playfully. We hadn't seen our Louisville friends in nearly a decade. Not even a great ride like this one was going to keep us from stopping for the night.
By the time we reached the Louisville suburbs, I was ready for a break from driving. Usually, after three or four hours on the road, the kids were cranky and needing a break too. I glanced in the rear view mirror. Our oldest was contentedly jamming to tunes on his iPhone. The younger two had tired of Mario Kart and were watching cartoons. If not for the necessity of potty breaks, we could go on like this for some time. Of course, we'd have to fill up with gas eventually.
I guided the van onto the exit ramp for our standard stop at a convenience center in St. Charles. Glancing at the gas gauge, I grinned. "Looks like we'll be saving money on gas this trip. Should I top it off anyway?"
My wife shrugged. "Might as well. Gas prices tend to be lower in Missouri."
I pulled up to the pump, swiped my credit card and filled the tank. "Anybody want snacks?" The two youngest were too involved in their show to pay attention, but our 15-year-old boy, who was always hungry, scrambled out of the van. I insisted that the younger ones follow suit, if only for a potty break.
As everyone climbed back into the van, my wife took the wheel. "North Carolina here we come," she announced pulling into traffic. I leaned back in the front passenger's seat and closed my eyes, we still had many miles to go, but I could get used to traveling like this.