With the recent launch and success of the RAM ProMaster chassis, we are proud to carry an on-going selection of RAM ProMaster wheelchair vans throughout the year. Not only do we carry a lineup of RAM ProMaster wheelchair vans in our inventory, but you can custom order a van to suite your needs. We know that finding a the right RAM wheelchair van for your family can be difficult, but we can make it easier for you. Here some other reasons to make the RAM ProMaster your next choice: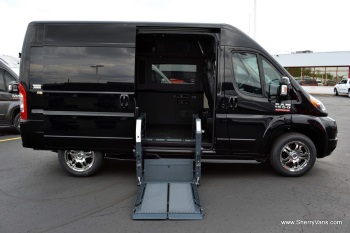 Lift Types
When looking for a new or used RAM ProMaster wheelchair van, it's important to find the right lift to suite your needs. The RAM ProMaster is the most flexible chassis on the market offering full size opening rear doors, as well as a full sliding side door. These features offer the ultimate flexibility for nearly any type of wheelchair lift to suite your needs.
Maneuverability
Light, nimble and responsive, the front-wheel-drive system of a RAM ProMaster wheelchair van allows for impressive handling when navigating crowded city streets, parking garages or snowy roads. Front wheel drive allows for an incredible 36' turning radius! With fewer parts to maintain, front-wheel-drive offers more room for interior floor-to-ground step-in height and more interior room than Ford, Chevrolet or GM.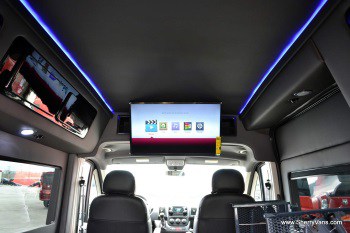 Gas Or Diesel
The RAM ProMaster wheelchair van is available with both a gasoline engine as well as a diesel engine option. The 3.6L Pentastar V6 gas engine applies some of the most advanced engine technologies available to deliver power and performance.
The 3.0L EcoDiesel I4 engine is an advanced, durable engine. In the everlasting quest to design a low-cost engine that delivers both power and efficiency, we've built the 3.0L EcoDiesel I4 engine to help give owners the diesel engine there looking for.
RAM Warranty
Every new RAM ProMaster wheelchair van purchase come with Basic Warranty (3 year/36,000 miles), Powertrain Warranty (5 year/60,000 miles), Roadside Assistance (3 year/36,000 miles), and a Rust or Corrosion Warranty (3 year/unlimited miles). This will make sure you're fully covered when you're headed down the road.