RAM ProMaster Passenger Vans
One of the many vehicles available at Paul Sherry Conversion Vans, an ideal vehicle for anyone who needs to regularly bring a large group of people to their destination in comfort. This passenger van can be configured to seat either seven or nine passengers depending on your preference, making it a great choice for those who don't want to force others to squeeze into a minivan.
Who Can Use the RAM ProMaster Passenger Van?
There is an incredible range of drivers that will find the RAM ProMaster Passenger Van useful. Businesses or schools with frequent group outings will appreciate its ability to take adults and full-grown teens to their destinations in comfort. Larger families will appreciate that everyone gets more space to spread out than in a minivan. Hotels may want to use the RAM ProMaster for a shuttle to nearby transportation like airports. Limousine and taxi companies may want to keep one of these passenger vans in their fleet for customers who need to move larger groups. The possibilities are as limitless as your imagination.
Some Key Features
It is impossible to succinctly describe all of the features of the RAM ProMaster Passenger Van, but you can get a good idea of what this vehicle offers based on its key features. It is built on the same sturdy chassis as the RAM ProMaster, delivering stability and a smooth ride. It also has multiple best-in-class figures, including the interior height of 6 feet 4 inches, the turning radius of 36 feet, and fuel economy of over 20 mpg. As mentioned, you can configure the RAM ProMaster to sit either seven or nine passengers, and there is also the choice of a gas or diesel engine for extra customization. This passenger van always uses front-wheel drive to help with handling and fuel economy and is able to tow up to 5,100 pounds, useful for carrying luggage in addition to people. It is ready to keep passengers occupied as well with a 32-inch LED-LCD HDTV for displaying movies and more.
Our Conversions Allow for Customization
Our family of dealerships actually converts the RAM ProMaster Passenger Vans ourselves at Sherry Vans. Because we do the conversions ourselves, there is a high level of customization via options. In addition to the choice of passenger capacity and engine mentioned above, the passenger van can have a low top or a high top roof. The low top should still be tall enough for most with its 65-inch vertical interior height, although passengers will have to bend their heads to get inside. Because of this, many prefer to go with the high top and its record-setting 76 inches of interior height.
Take Advantage of Financing and More
When you get a RAM ProMaster Passenger Van from Paul Sherry Chrysler, you get all the same advantages you would if you were to buy any other vehicle from our dealership. This means you will get access to our service center, financing right at our dealership, the ability to trade-in an older model for a discount, and of course, our excellent customer service and guidance from our knowledgeable staff.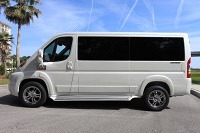 Our Ram Passenger Van can come in many different configurations due to the Ram ProMaster windowed van does not come with rear seating.
Ram ProMaster passenger vans can be built on two different chassis. There is the cargo chassis that came from the factory without rear windows and installer of the rear seats also installs the rear windows. Early on in Ram passenger van production, a majority of the vans came as cargo vans and have been converted to have windows. The Ram ProMaster is also built on the windowed van chassis, the only difference with this chassis is that the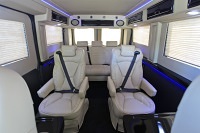 windows are installed from the factory. This chassis was harderto come by in early Ram passenger van production.
The Sherry conversion on the Ram ProMaster chassis is a perfect combination for a Ram passenger van. Sherry Vans designs both a 7 passenger and 9 passenger van and in a low top or high top roof. The low top has a vertical interior height of 65″ and the high top has a record setting interior height of 76″.