RAM ProMaster Passenger Vans Now For Sale
October 17, 2014

Posted by

Brian Haase
Comments Off

on RAM ProMaster Passenger Vans Now For Sale
Leading conversion van dealer in U.S. boasts large inventory of "Sherry Van" ProMasters and used conversion vans for sale.
Aware that RAM Trucks does not offer a factory passenger van which rides on the coveted ProMaster chassis, Ohio-based Paul Sherry Conversion Vans has stepped up to the plate by offering the marketplace a comprehensive line of RAM ProMaster passenger vans. As the country's leading conversion van dealer, Paul Sherry Conversion Vans' inventory consists of new RAM ProMaster conversion vans – known as the "Sherry Van" – as well as a sweeping selection of used conversion vans for sale. Complementing its inventory are complete financing options, help arranging nationwide delivery and trade program.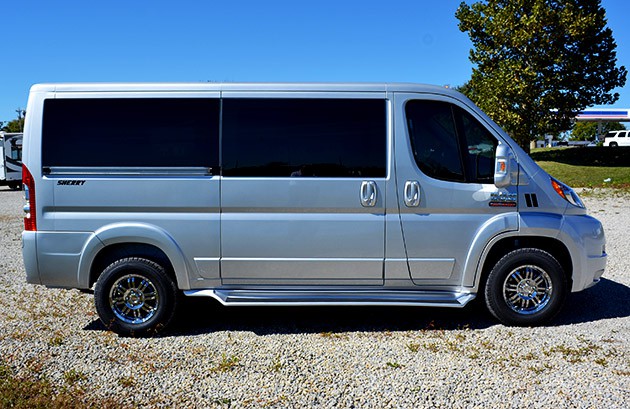 According to Paul Sherry Conversion Vans representatives, what makes the "Sherry Van" stand out amongst other conversion vans is a unique combination of performance and luxury, with the RAM ProMaster offering drivers enhanced on-the-road performance and increased interior space for maximum comfort. Further, say company representatives, since the inception of the RAM ProMaster conversion van, Paul Sherry has quickly become the number-one dealer in the country for vans of this type.
Beyond being revolutionary in the design of the RAM passenger van, Paul Sherry Conversion Vans has become renowned for its formidable inventory of multiple chassis makes such as Chevrolet, GMC and Ford in addition to converters like Sherry, Explorer, Majestic, Rocky Ridge and Southern Comfort. Understanding that each client's need is different, Paul Sherry always has a variety of passenger vans in stock to choose from and can work within any budget or lifestyle.
On Paul Sherry Conversion Vans' intuitive website, visitors can easily find what they're looking for by searching for vehicles with different criteria – from vehicle type, fuel type and color to make, model and year. Under "Vehicle Type," shoppers can select from such categories as Six-Passenger Low-Top AWD, Seven-Passenger High-Top, Seven-Passenger High-Top AWD, Seven-Passenger Low-Top, Seven-Passenger Low-Top AWD, Nine-Passenger High-Top and Handicap-Accessible High-Top.
Because some shoppers just can't land that perfect conversion van they've been salivating over, Paul Sherry has made it possible for them to design their own Custom RAM ProMaster Van. All custom vans are built on the RAM ProMaster chassis, on either the 136-inch or 159-inch wheelbase. Additionally, Paul Sherry Conversion Vans boasts a finance department experienced in working with a variety of credit scores, situations and budgets, with representatives always ready to answer any questions regarding financing a van.
Paul Sherry Conversion Vans is located at 8793 N. Country Road 25A in Piqua, Ohio.