Executive Conversion Vans That Don't Cost an Arm and a Leg
July 11, 2014

Posted by

Brian Haase
Comments Off

on Executive Conversion Vans That Don't Cost an Arm and a Leg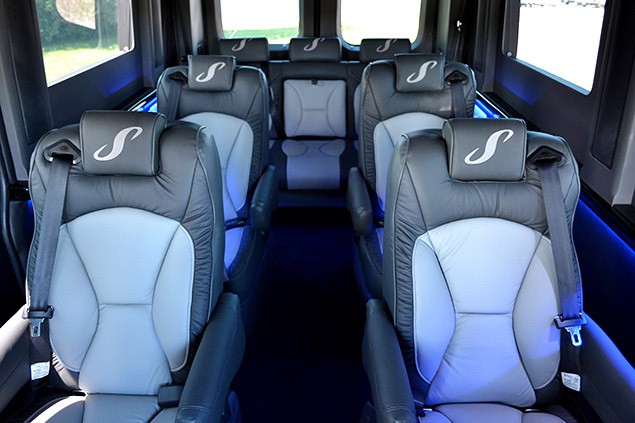 Everyone who gets behind the wheel of a vehicle wants to travel in style. There's nothing like cruising down the open road, knowing you've got many of the creature comforts along with you. For those who are lucky enough to be driving a Sherry Van, that's exactly what they've got. One of the premier Executive Vans in the industry, the Sherry Van is at the forefront of premium conversion vans. Built on the Ram ProMaster chassis, the Sherry Van provides its owners with luxury at an affordable price. With a price difference approaching $40,000, it's easy to see why more and more people are turning to the Sherry Van for the Ultimate in Conversion Van luxury and style.
When it comes to amenities, the Sherry Van has everything you could ask for. An abundance of interior space, including over six feet in headroom, makes any trip an enjoyable ride down the highway. The seating, offered in five configurations to ensure comfort for anyone, has been engineered with premium leather to make the interior so comfortable you'll never want to leave your seat. Along with this, the Sherry Van is as easy as ever to enter, with its wide door openings that allow for any and all occupants to easily navigate.
As we all know, cruising down the road in a Luxury Van is not complete without a fantastic entertainment system. The Sherry Van, with its astounding entertainment system which includes the largest HDTV in the industry, leaves all its competitors playing for second place. The television, along with a Bluray player to watch your favorite movie, allows both the children and the adults who are kids at heart to watch their favorite movies and shows no matter where their travels may take them.
One of the best features of the Sherry Van is its best-in-class payload. Sporting an impressive 4,400 pounds, heavy-duty hauling is not a problem, and the high mileage afforded between oil changes is a money-saver as well. Another best-in-class feature is the 36-foot turning circle of the Sherry, making sure there's no problem with those tight turns in crowded city streets or on the back roads of small towns.
So if it's luxury you desire while on the road to your next great destination, a Sherry Van is the only way to go. Comfort, fuel economy and all the amenities of home are what you get with a Sherry, without paying an arm and a leg.