Conversion Vans vs. SUVs: What's the Ultimate Road Trip Vehicle?
July 27, 2021

Posted by

Ryan
Comments Off

on Conversion Vans vs. SUVs: What's the Ultimate Road Trip Vehicle?
Road trips can be incredible experiences. From sight-seeing to cruising down the highway, adventures on the open road are some of the best. 
But sometimes, what should be a fun road trip turns into a hassle. This is often due to uncomfortable travel, breakdowns, and constant stops for gas. 
So how can you avoid these road trip hiccups? Your best bet is picking a vehicle that can take on whatever your adventure throws at you.
Conversion Vans vs. SUVs
Conversion vans and SUVs are popular road trip vehicles — and for good reason. Both offer perks over other vehicles including more space, bigger seats, and tougher builds that can handle the distance. 
But which is best? 
There are a few factors to consider, and one of the most important is gas mileage.
Does a Conversion Van or SUV Get Better Mileage?
Right now, one of the best conversion vans on the market is the Ram ProMaster. This van gives you an outstanding run of about 26 miles per gallon. Compare that to some of the top SUVs available and conversion vans are definitely the winner. 
Nissan's 2021 SUV Armada gets just 16 miles per gallon

The 2021 Lexus LX 570 only gets 14 miles per gallon 
So the ProMaster beats the competition when it comes to mileage, but what about comfort? After all, not having to stop for gas is nice but only if staying in the van is comfy.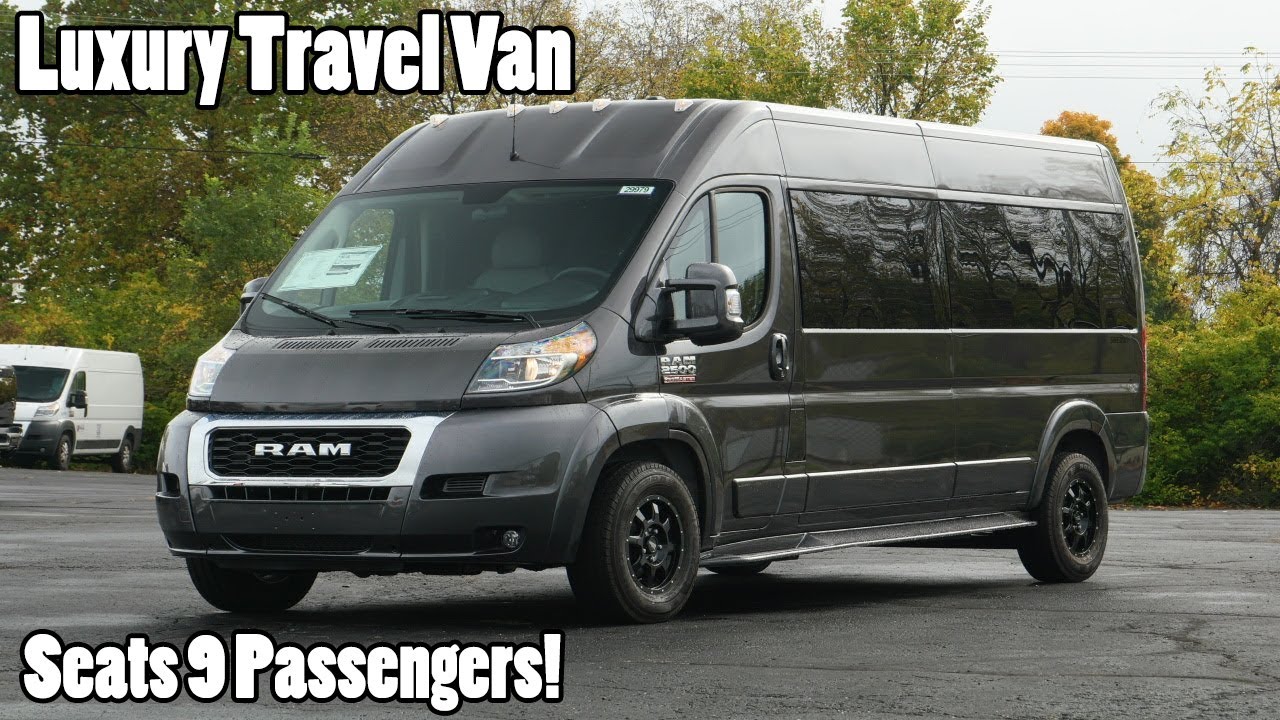 Are Conversion Vans Comfortable?
When we talk about vehicle comfort, we need to think about two things: driver comfort and passenger comfort. 
For drivers, conversion vans offer spacious seats and maximum control. In the 2019 Ram ProMaster, that means an adjustable 6-way lumbar seat and plenty of space to relax while driving.
On the other hand, SUVs offer the benefit of a smaller footprint, which could make finding parking easier. However, this has its downsides — most notably for your passengers and their luggage. A smaller vehicle means less space to stretch during long drives and more crowded corners packed with backpacks and take-out wrappers. Not fun. 
In a conversion van, you get all the benefits of a larger vehicle. For ProMaster drivers, that includes bigger seats and a higher roof. Plus, vans such as the 2020 Ram Waldoch Galaxy offer overhead storage. 
Ram's 2020 Waldoch Galaxy Conversion Van has heated leather seats

The 2021 Ram Conversion Van gives you swiveling Captain Chairs
But what about tech? You can only get so comfortable if your phone dies halfway down the highway. 
While some SUVs give drivers a USB charging port, the 2020 Ram 9 Passenger conversion van gives you AC power outlets, USB connections, and Bluetooth connectivity. Further, Ram's Waldoch Galaxy sets you up with a full-size flip-down TV. 
ProMaster drivers get to join in on the tech with a built-in rear park assist system — making it easier to get situated after a long day of driving. 
So when it comes to comfort, conversion vans win again. But what about safety?
Are Conversion Vans or SUVs Safer for Road Trips?
Road trips can be dangerous if you're traveling in the wrong vehicle. Without important safety features, drivers and passengers can end up in bad situations.
So which is safer? A conversion van or SUV? 
To get a good idea of safety, we need to look at two things: 
Built-in safety features 

Professional studies
First up, SUVs like the Chevrolet Tahoe offer airbags and car alarms — which is a good start. However, the Tahoe is also among the 10 vehicles in its category most likely to tip over according to a government study. That's not great. 
In contrast, the 2021 Ram ProMaster gives you front-wheel drive, which can increase stability and traction. Plus, 2019's ProMaster has power-folding heated mirrors that ensure visibility even with snow and ice. 
Finally, Ram's conversion vans nail down their win in this category when you consider their built-in GPS systems. By giving drivers the ability to navigate without taking out their phones or fumbling with a map, Ram vans keep you focused on the road so you and your road trip partners stay safe. 
The Final Verdict
In the end, conversion vans are the winner for road trips. Between high-quality safety features, maximum comfort, extra space, and helpful tech options, vans like the Ram ProMaster make for the ultimate road trip vehicle.