A Van That Tall People Can Stand
August 5, 2014

Posted by

Brian Haase
Comments Off

on A Van That Tall People Can Stand
From tiny beds to constantly being asked to reach the top shelf, tall people have it rough. While some people want to pimp their rides, tall folks just want to fit into theirs. Luckily, Paul Sherry Conversion Vans can solve both desires with Custom Vans that boast a superior 6'4″ head clearance. It's no wonder that Sherry Vans are popular with pro-basketball and Football Players. Whether you're a balla or just a little bit taller, these vans understand.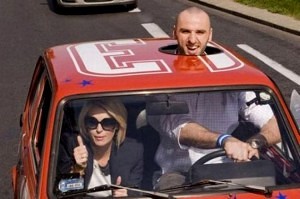 The Sherry Van is built on the Ram ProMaster chassis. That means that the Sherry Van get terrific Fuel Economy. That means over 20 MPG with it's gasoline engine, and a diesel version is due out soon. Between the leg room and the gas mileage, tall people will rejoice when they won't need to cut a hole in the floorboard and drive it like Fred Flintstone. Forget Fred's old stone steering wheel, these vans include class-leading features such as an exceptional turn radius, high payload capacity, luxury amenities, and more! Yabba dabba dooo, indeed!
With such style, space and performance, the possibilities are endless. Tall folks won't be able to hear the usual "how's the weather up there?" jokes over the sound of their awesome stereo and HDTV. Forget about outdoor weather (and evil eye poking umbrella users) with individual passenger seat climate controls. Finally stretch those long legs out on a power reclining, premium leather sofa. This is one passenger van that actually delivers on the "comfortable seating."
If you're still not sold on Sherry vans, picture this: your entire (tall) family. Was your last road trip fun, with a bunch of lanky youths crammed into your economy size back seat? Shorter people think they know the pain of family road trips, with kids screaming about who is touching whom, but they have no idea what it's like in a car full of elongated humans who literally can't help but be crammed into one another. Wouldn't the trip have been much more fun if everybody had had some space?
If you don't need a van for a tall family, think about your social life. You're rolling with all your friends, heading to the hottest club. Do you show up in a mommy minivan? An economy-sized Euro toy? Not even a luxury sports car will do (unless you want to pull up to valet with the whole crowd watching as you awkwardly unfold your legs and bang your head getting out). No, you show up in a pimped out Sherry Van, slide out of the leather seats with the sound system bumping, and wink at the valet as you toss him your keys.
Paul Sherry Conversion Vans are the right choice for tall people who want to evolve beyond Fred Flintstone.