Paul Sherry Conversion Vans is proud to offer a wide variety of wheelchair vans for sale in Ohio. Those with unique mobility needs know that finding a vehicle that can take them from place to place with plenty of room can be a challenge. Luckily, the RAM ProMaster is one of the few vans on the market that can be configured to transport a wheelchair easily, and it is available right in Piqua, Ohio at Paul Sherry Conversion Vans.


RAM ProMaster Wheelchair Van
The RAM ProMaster is the ideal platform for a variety wheelchair van lifts and raises the standard of performance for full sized vans. This van delivers a series of industry firsts, such as: 20+ MPG, front wheel drive, diesel engine option and much more. Browse between three RAM ProMaster passenger van models to find which van fits for your family.
LARGE LOCAL SELECTION
Scouring craigslist, eBay, and random websites for wheelchair vans in Ohio is no fun. We are working hard to grow our selection so we can provide more options for you to choose from, all in one place. We are constantly looking for used wheelchair vans to buy (Click here to sell your wheelchair van to us), and soon we will be converting our own RAM ProMaster vans to sell new! Paul Sherry Conversion Vans in proud to be the highest volume RAM ProMaster wheelchair van dealer in Ohio!
VAN INVENTORY
We offer new wheelchair vans, used wheelchair vans for sale with a variety of different lift types, or you can custom order your own. We update our van inventory daily to ensure you're browsing the most up-to-date information. When shopping on our website, you can sort our van inventory by price, mileage, make, conversion, or type. Since our website is specifically designed for conversion vans, we are always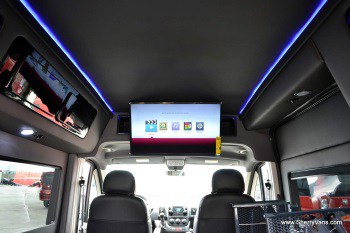 focused on helping you find the right conversion van for your lifestyle.
EASY PURCHASE PROCESS
With financing, warranty registration, titling, and all other paperwork, purchasing a wheelchair van can seem scary. At Paul Sherry Conversion Vans, we make the purchase process easy for you. We can work with you to complete all the paperwork over the phone and through mail, so you never have to leave your home in Ohio. Or if you plan on picking up your van, we will have all the paperwork ready upon your arrival so you can be on your way in no time!