New 12 Passenger Conversion Van Inventory
About Our 12 Passenger Conversion Vans
Our 12-passenger conversion vans blend convenience with functionality to bring you the right-sized van for your transportation needs. We have several models and configurations to choose from in our new vehicle inventory, each with a 76-inch interior height to allow passengers to stand up and move around comfortably. These versatile vans are perfect for commercial or personal use.
Find the Right Model for Your Needs
At Paul Sherry Conversion Vans, we take pride in our ability to help you find the right conversion van configuration to meet your needs for style, safety, and functionality. We suggest you browse our inventory of new and used conversion vans online to see what we offer and learn more about the amenities you can choose from. Our filters help you find exactly what you're looking for in a van, from a specific exterior color to its drivetrain. If you can't find what you need or you have some questions for us, please don't hesitate to give us a call or stop in our dealership so that we can better assist you in your search.
Excellent Handling
Our selection of 12-passenger conversion vans feature equipment that allows them to have a sharp turning radius and responsive handling, which is especially helpful for you if you're going to drive mostly on busy city roads. Despite its large size, the Ram ProMaster 12-passenger van offers a nimble 36-foot turning circle and a front-wheel drive system that boosts its ability to navigate corners and weave through traffic easily and safely.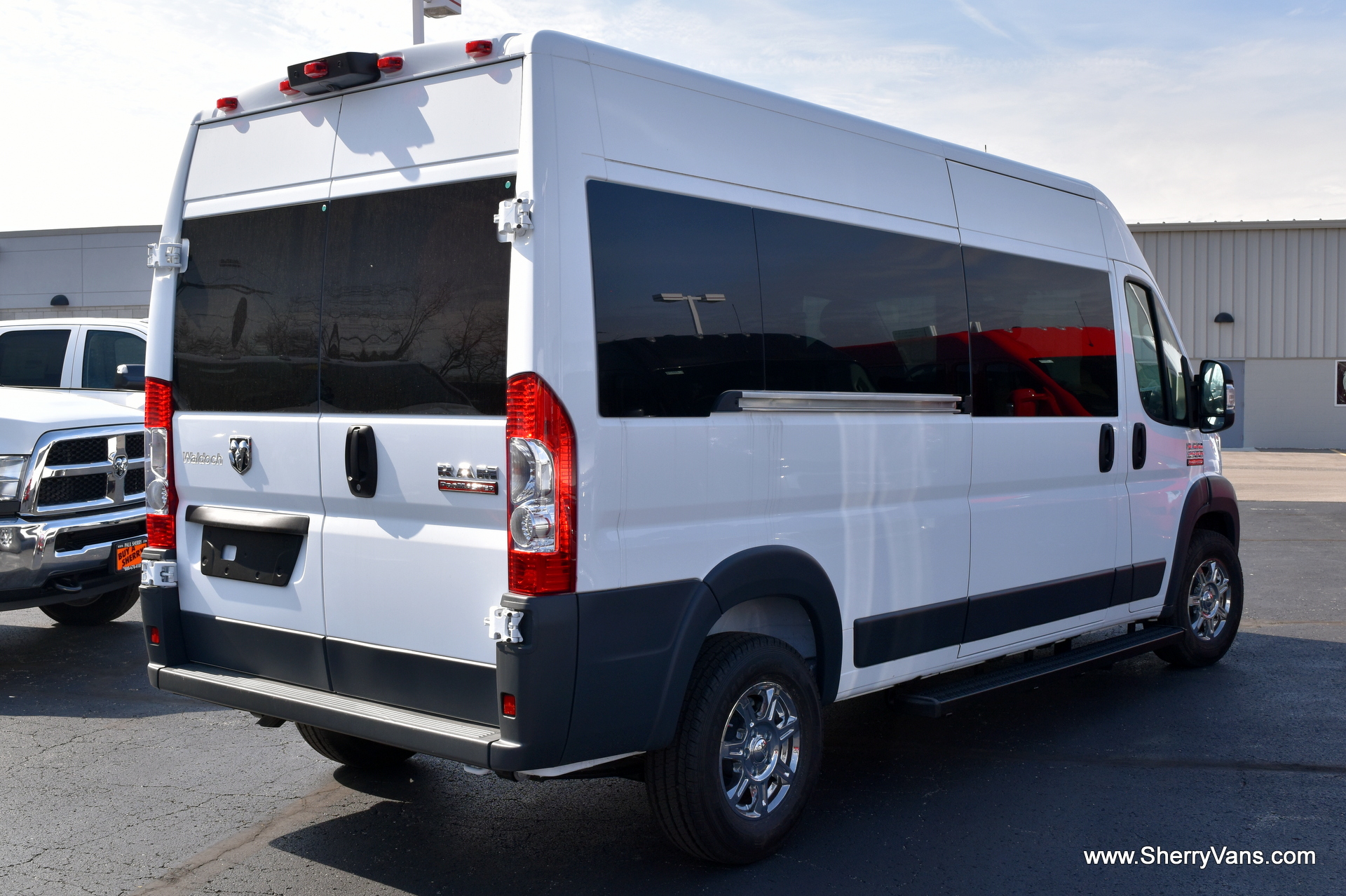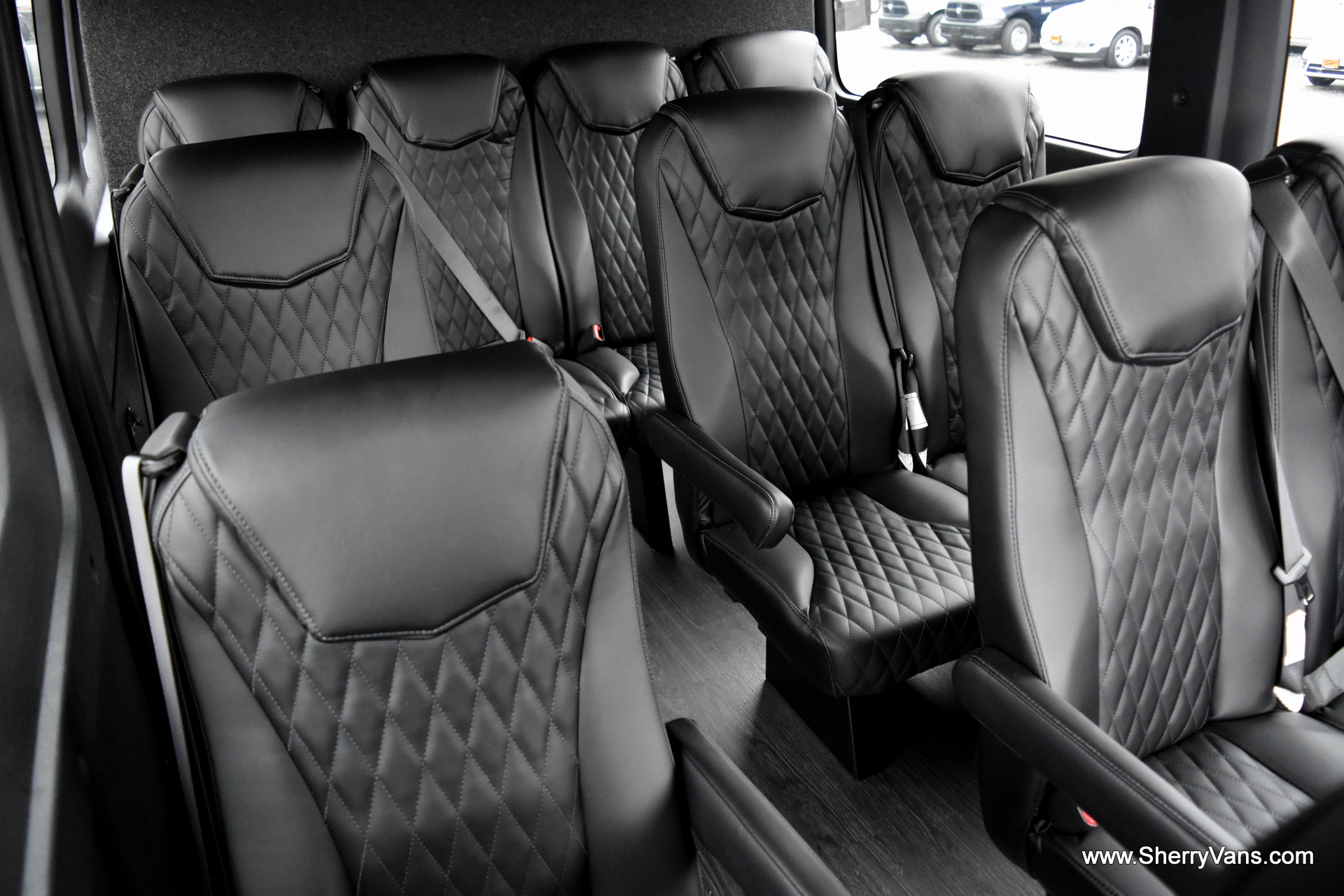 Ride in Style and Comfort
In true conversion van form, our 12-passenger conversion vans are filled to the brim with the features you want for comfort, style, and convenience. You can get features you'd expect in a luxury car or SUV packed into your conversion van, like deep-tinted rear glass, a streaming audio system, a rear backup camera, sliding passenger doors, swing-open cargo doors, and a DC power outlet. You can also perk up the exterior with gray and black body accents or add functionality with a Rear Heater – A/C Prep Package and Speed Control.
We Can Help Arrange Delivery
If you don't live local to our dealership or can't find time to visit to pick up your new 12-passenger conversion van, we can help by arranging a delivery with a date and time that fits with your schedule. At Paul Sherry Conversion Vans, we offer you the option of searching for your vehicle online and getting it delivered to your home or business with the company of your choice for ultimate convenience. Of course, we would love for you to stop by if you're able to take a quick test drive and make sure you have a perfect match.
Take Advantage of Our New Van Warranty
When you purchase one of our new 12-passenger conversion vans, you can benefit from our 3-year/36,000-mile bumper-to-bumper limited warranty and 5-year/100,000-mile powertrain limited warranty.  That means your van has repairs and defects covered in full – including parts and labor – so that you can feel even more confident about your purchase with us.