At Paul Sherry Conversion Vans, we offer a wide selection of all types of conversion vans, including mobility vans. We are actually a favorite option for the mobility vans Dayton, Ohio drivers can enjoy. No matter the type of van you are looking for or your mobility restrictions, we can work with you to find a solution based on one of the models on our lot. If we don't have the right one for you in stock, we can easily custom order the particular van you need with the lift that you want.
Mobility Vans Provide Independence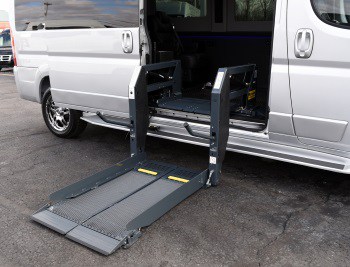 We understand that mobility vans are a crucial part of gaining independence and living a normal life. Whether the unique mobility requirements are for the driver or a passenger, we can work with you to gain that independence you need. With one of our mobility vans, going to the store or visiting relatives is no longer a challenge. You can even take a road trip in comfort with our vans thanks to the available premium interiors. Choose from a new or used mobility van that provides wheelchair access. We have several different models that we work with including those that have a long wheelbase chassis. Whether you need space for a single wheelchair or several, we can offer numerous solutions.
We Offer Financing
If you aren't sure whether you can afford the mobility vans Dayton, Ohio has to offer, then talk to our finance department. We will assess your credit situation and work to find an auto loan that you can actually afford. With our assistance, you will be able to get low monthly payments, a lower interest rate, or whatever else you are looking for in your auto loan. Don't let worrying about finances hold you back from your independence. Applying for financing is easy and we offer financing for those with a wide range of credit situations.
Our Dealership Is a Short Drive Away
You will find Paul Sherry Conversion Vans in Piqua, meaning mobility vans in Dayton, Ohio are just a short drive away. Getting to our dealership could not be easier and will only take you around a half hour from Dayton. Just follow I-75 North for about 28.1 miles until you reach Exit 83. This exit will be County Road 25A and indicate that it is in the direction of Piqua. Once you exit, turn left onto North County Road 25A which is also known as Sidney Road. We are right there at 8793 North County Road.
We Can Help Arrange Delivery
For those with mobility restrictions that make it hard to leave your home, we also help to arrange deliveries all over the country, including in Ohio. Just because our dealership is close doesn't mean you miss out on the possibility of a delivery. You can browse our extensive inventory on the Paul Sherry Conversion Vans website and talk to a member of our team over the phone. We are set up in a way that allows you to take care of everything from your home and have your mobility van delivered to you using the company of your choice.