2024 Conversion Vans For Sale
Get ready to experience the pinnacle of comfort, versatility, and adventure. Conversion vans have captivated the hearts of travelers and families worldwide, and the upcoming 2024 models are set to take the excitement to new heights.
Discover the perfect vehicle for your journeys, offering ample room, unbeatable reliability, and a price point that will leave you pleasantly surprised. These exceptional vans are renowned for their ability to transform any trip into a comfortable and memorable experience. With enhanced features and ingenious storage solutions, you'll have everything you need at your fingertips, whether you're embarking on a camping trip or exploring new business ventures.
At Paul Sherry, we're eagerly anticipating the arrival of the 2024 Conversion Vans. As your trusted destination for top-quality vehicles, we're committed to helping you find the perfect match for your needs and desires. Stay tuned as we keep you informed about the remarkable features and advancements that await you in the upcoming 2024 models. Bookmark this page, and be among the first to embark on unforgettable adventures with the extraordinary 2024 Conversion Vans from Paul Sherry.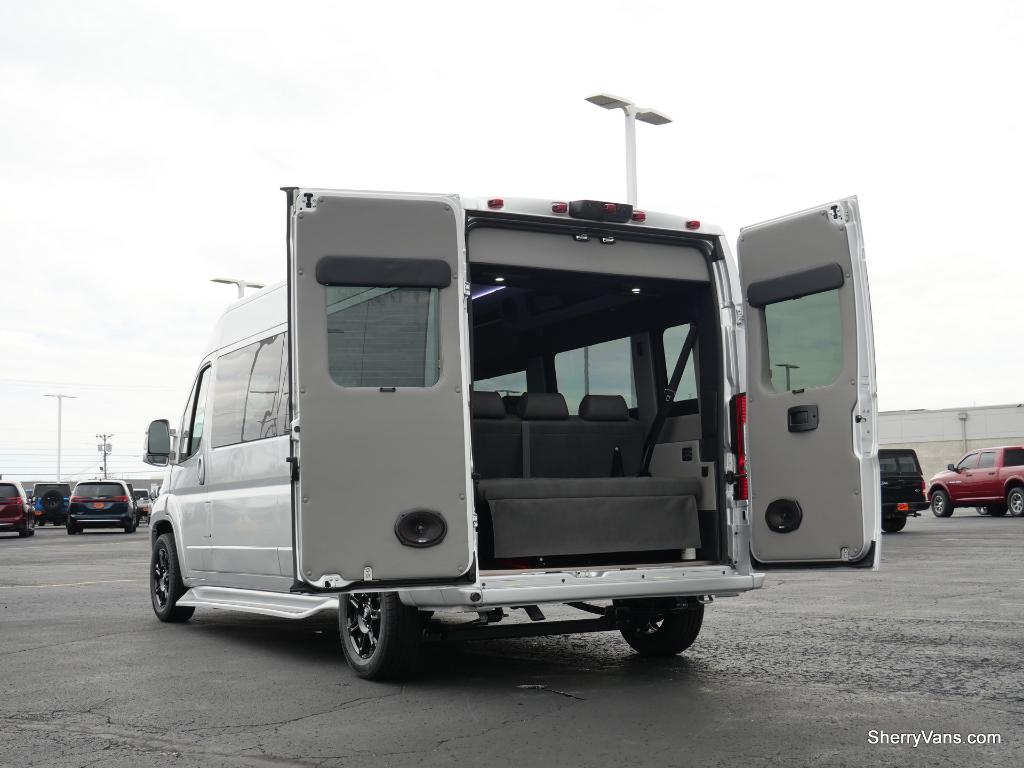 What to Expect in 2024
Some key features for the 2024 conversion van models are improved fuel efficiency, upgraded technology, and advanced safety features. You'll get everything you need to stay connected on the go, from a 10.1-inch touchscreen to wireless charging and multiple charging ports. You'll enjoy 4G LTE Wi-Fi Hotspots and phone integration via Bluetooth, Apple CarPlay, and Android Auto. In terms of safety, you'll get to take advantage of advanced features, such as drowsy driver detection, crosswind assist, and pedestrian/cyclist emergency braking, among others.
Why Buy From Paul Sherry?
Choosing to buy a conversion van from Paul Sherry Conversion Vans will give you an excellent shopping experience. We have a strong reputation for quality and customer service. We've carefully built this reputation over the decades serving the local community. Our dealership always strives to build relationships with customers and the community, going out of our way to answer your questions and make you feel welcome but not pushing the sale.
You will also get access to our extensive inventory of new and used vans. You can even custom order a conversion van via our dealership.
In addition to our dedication to customer service, Paul Sherry Conversion Vans offers:
Trade-In Options: Part of our dedication to a smooth van-buying experience is accepting trade-ins. This is one way that you can immediately lower the out-of-pocket costs of your new or used conversion van. That is especially true given that we offer competitive rates. As a bonus, the fact that we accept trade-ins means that we typically have an extensive selection of used conversion vans available, giving you more budget-friendly models to choose from.
Financing Assistance: As mentioned, we also offer financing assistance. It is incredibly easy to apply for financing with Paul Sherry Conversion Vans. You'll find competitive rates thanks to our relationships with numerous financial institutions. Just fill out a simple finance application on our website. Our finance manager will be in touch with you very soon to discuss your options and confirm you want to go ahead with the application. Filling out the form will not affect your credit score, so there's nothing to lose.
Custom Order Your 2024 Conversion Van from Paul Sherry
No matter what your needs are, we can customize a 2024 conversion van for you. You can upgrade to leather upholstery to maximize your comfort. Or get improved lighting for better visibility on the road or even within the cabin. For other drivers, improved sound systems make more sense, making it easy to stay entertained no matter where the road takes you.