Additional Services
Virtual Walk-Around: Get a virtual walk-around so you can get a detailed look from home.
Home Delivery: Provide the option to start a your purchase online and have the van delivered directly to your home to complete your purchase, including paperwork.
Trade-In: We're also providing trade-in estimates without the need to visit our dealership in-person.
Financing: Apply for auto financing online.
You don't have to search high and low to find RAM wheelchair vans in Kentucky. Even though these particular vans require conversions, you can easily get one no matter where in Kentucky you live thanks to Paul Sherry Conversion Vans. Our dealership is located in Piqua, Ohio, but we deliver across the country, including anywhere in Kentucky. We offer this delivery because we understand how important a wheelchair van can be for those with limited mobility. By providing access to those across the country, we hope to give more people their independence and allow them to participate in daily activities they wouldn't otherwise be able to.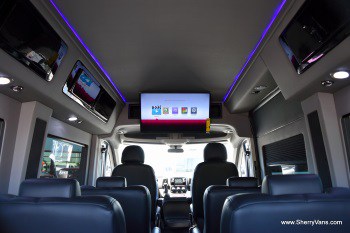 Why Buy from Paul Sherry Conversion Vans
Paul Sherry Conversion Vans makes it easy to find RAM wheelchair vans in Kentucky since we offer an extensive selection. At any moment, you will find several used and new models on our lot. We also offer the option of customization for those who require it. Between our delivery, our excellent customer service, and our on-site financing team, you will have an all-inclusive experience with Paul Sherry. Because we regularly sell to those outside of Ohio, we are set up in a way that allows us to complete the entire sales process while we are in separate states. The entire process can take place over the phone and online with the possibility of snail mail as well. Our experience means that you get high-quality conversion vans, a wide selection of options, and the attention you need during the entire transaction.
You Can Custom Order Any Van with Any Lift
In addition to the RAM wheelchair vans we already have on our lot or listed on our online inventory, we offer the ability to customize. You can custom order any van that you want with any lift. That means that you can get a wheelchair van that holds one chair, three chairs, or any other number. Combine traditional vehicle seating with space for wheelchairs or fold down seats however you want to create your favorite van. Then, choose the lift that you have had the best experience using and we will put it in the van you selected.
We Deliver to Kentucky
As mentioned, we provide RAM wheelchair vans in Kentucky since we will deliver to anywhere in the state. This way, you don't have to drive across state lines to get your mobility van and move around with ease. We understand that not everyone is up to a trip and there aren't many dealerships in the country with wheelchair vans, which is why we offer this delivery service. You can contact us to get an estimate and find out about how much delivery would cost so you know how much you should budget for this.
We Offer Financing
Like any other dealership, we also offer financing. We take it a step further, however, and have partnerships with both national banks and local credit unions so we are able to easily get you the best rates. This means that even people with poor credit are likely to find an auto loan that is realistic and helps them own their choice of RAM wheelchair vans in Kentucky.