What Is My Conversion Van Worth?
May 21, 2014

Posted by

Brian Haase
Comments Off

on What Is My Conversion Van Worth?
2022 Update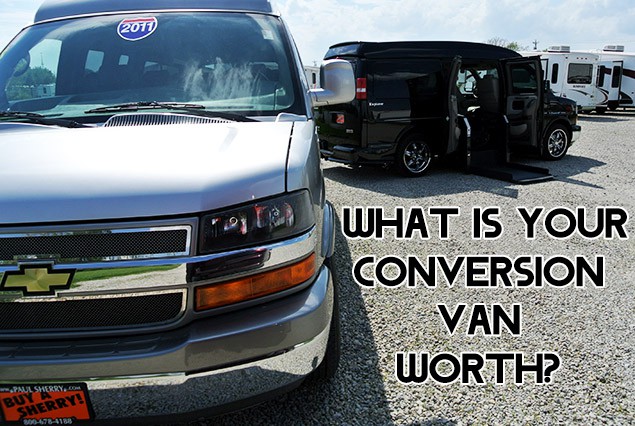 You've reached the conclusion that it's time to sell or trade in your conversion van. Understandably, you're a bit nervous because you have no idea what your custom van is worth. What's more, you certainly don't want to be taken advantage of by other dealerships who throw you a low-ball offers that you don't have the knowledge to recognize.
Making sure you get the right price for your conversion van begins by understanding how it's valued. Paul Sherry Conversion Vans, an industry leader with a reputation for years of reliable sales and service, explains that most dealers don't even get into appraising conversion vans because they don't know how to value them. Dealers like to rely on the Kelley Blue Book or NADA value, both of which rely heavily on age and mileage. Conversion van experts like Paul Sherry look at everything before determining a price.
Reverse Engineering
If you're familiar with the idea of reverse engineering, you should be able to understand how experts appraise a conversion van. Building these kinds of vehicles begins at the manufacturer level. Companies like Ram, General Motors and Ford create a standard van on a production chassis before sending it to a specialist for conversion. When determining a proper value, experts work in the other direction.
An experienced appraiser will begin by looking at the conversion features most noticeable by potential owners. This would include things like captain's chair seating, carpeting, sound systems, and so on. Next, they look at things like the mechanized systems used to control all of the vehicle's gadgets. Finally, they consider things like the engine, tires, suspension, etc.
The last piece of the appraisal puzzle involves putting everything together in a package that strikes the correct balance between the features the conversion van offers and what the market will bear. In the end, no vehicle is worth more than the target consumer is willing to pay.
Expert Appraisal
If you're trading in your van, you can strengthen your position with the dealer by bringing a written copy of an expert appraisal with you. This document has all the information you need to establish what you're willing to accept early on in your negotiations. Of course, remember you'll be offered less than the appraisal suggests. The dealer has to be able to make some profit off your trade-in.
Before you sell or trade a conversion van, get it appraised by an expert. Don't allow yourself to be shortchanged by a salesperson who has no clue about what goes into creating a conversion. Only conversion van experts, like Paul Sherry Conversion Vans, know what to look for to get you an accurate price your your van conversion.