And Frequently Asked Questions
Posted by

Ryan
Comments Off

on Wheelchair Van Purchasing Tips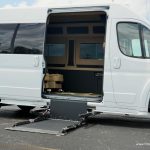 Wheelchair van purchases can be daunting for people who have never invested in one: Which is the safest? Will I be able to get into one without issues? What's the best version?
A mobility van ranges in price depending on the features you need and want. We suggest test driving one to discover if it's the right fit and if it makes you comfortable. Consider things such as where you may get in and out of this van the most. Would it be better to have rear or side entry? Will it need to be great for parallel parking?
Here are some of the most common questions about wheelchair vans:
How much does a mobility van cost?
Like all vehicles, it varies based on the features. Costs start around $40,000 for new vehicles. But there are plenty of used options as well. If you consider the regular price of a van and then add in [...]