Posted by

Brian Haase
Comments Off

on "Doing Business As It Should Be Done": Words Of A Satisfied Conversion Van Customer
Here at Paul Sherry Conversion Vans, we strive to treat every one of our customers like family. We understand that looking at and purchasing a vehicle from a great distance can be a daunting experience, but does it have to be? We don't think so.
We recently received this review on Cars.com:
I inquired on a Saturday morning via a phone call (from Colorado) to Justin Smith @ Paul Sherry Conversion Vans regarding a 2012 GMC Explorer Conversion Van he had advertised on-line. I had been searching for several months to find a specific make/model for myself and family. Justin had posted a very detailed and informative video tour of the Van I was looking for. When I called, he was prompt to reply and confirm the details of the Van as noted on his video. He was extremely helpful in guiding me through the financing/purchasing options available. Within 30 minutes we had the purchase [...]
Posted by

Brian Haase
Comments Off

on Low-Top Conversion Vans: Ram ProMaster Vs Chevrolet Express/GMC Savana
When you're considering a Conversion Van for road trips and camping, consider the "Low Roof" Ram ProMaster by Sherry Vans. The ProMaster has been on the market for about a year now and it's proving its versatility. It compares favorably to the Chevrolet/GMC Express/Savanna platform that is so popular with van conversions nowadays, and it offers today's buyers exciting new features you can't find anywhere else. The market seems to say that the low top vans have made something of a comeback as a platform for conversion vans. The Ram ProMaster is among the best prospects.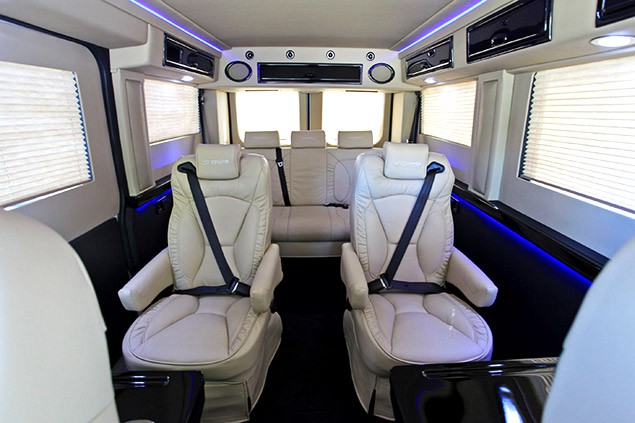 Drive Train
There are many reasons why the Ram Promaster is looking like the best option for low-top Conversion Van customers. The drive train is the most obvious one. Front wheel drive removes the rear drive train, lowers the floor, and allows for quite a lot of extra interior room. That extra [...]