Additional Services
Virtual Walk-Around: Get a virtual walk-around so you can get a detailed look from home.
Home Delivery: Provide the option to start a your purchase online and have the van delivered directly to your home to complete your purchase, including paperwork.
Trade-In: We're also providing trade-in estimates without the need to visit our dealership in-person.
Financing: Apply for auto financing online.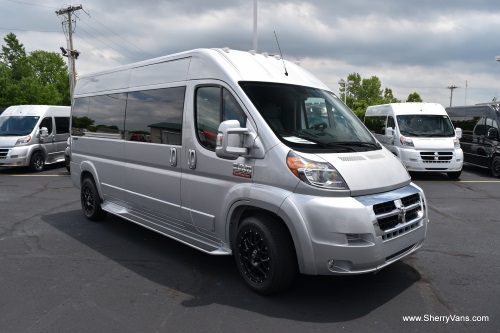 When you want to drive a RAM ProMaster with a few special editions, look no further than the ProMaster conversions at Paul Sherry Conversion Vans. Our dealership features an extensive selection of new and used models with your favorite conversions. While you could just buy a RAM ProMaster and a conversion kit separately, this is complicated and voids your warranty. It is much smarter to just buy the ProMaster that already includes your desired conversion kit.
Passenger Conversion Kits
One of the most common conversion kits you will find on RAM ProMaster models is a passenger conversion. These conversions can set up the vehicle to seat anywhere from seven to nine passengers and are perfect for large families, teams, shuttle services, and companies looking to get employees around safely and comfortably.
Limo Conversion Kits
Our dealership also offers RAM ProMasters already fitted with limo conversion kits. These conversions are designed to take the spacious ProMaster and create an upscale interior filled with luxury and premium amenities. With the conversion, you can drive around in a limousine that actually has enough headroom. This is perfect for anyone who wants a limo or even limo companies looking to expand the vehicles they use.
Mobility Conversion Kits
At Paul Sherry Conversion Vans, we are proud to offer mobility conversion kits already installed on RAM ProMaster vans. These kits are designed to make it possible for those with mobility impairments to get around. We have a range of interior configurations that can accommodate one or more wheelchairs and multiple ramps to choose from.
Custom Conversions
In addition to the conversion kits you will find on our lot, our dealership is able to create a customized conversion for your RAM ProMaster model. You just choose if you want the 136-inch or 159-inch wheelbase and then let us know what you are looking for. We have experience with all types of conversions, so if you don't find the model you need on our lot, we will gladly work with you to create the custom version that does meet your requirements.
We Make Your Van More Affordable
At Paul Sherry Conversion Vans, you won't just find the conversion kits you want for your RAM ProMaster; you will get them at an affordable price. We do everything we can to put our vans within your financial reach. We accept trade-ins so you can sell us your previous van for a discount on the new one. We also offer financing and work with a range of financial institutions to get you the best possible rate.
We Can Deliver!
In addition to our selection and amazing pricing, Paul Sherry Conversion Vans can deliver your van to your destination, no matter which of the 50 states you are in. We understand that it can be a challenge to find a RAM ProMaster with a conversion kit installed by professionals by you. That is why we offer delivery and are able to conduct the entire transaction remotely, online and over the phone. This allows you to take advantage of the conversion kits even if you live hours and hours away from the closest dealership with similar offerings.
---