New Conversion Vans: Why Sherry Vans Makes Sense
July 3, 2014

Posted by

Brian Haase
Comments Off

on New Conversion Vans: Why Sherry Vans Makes Sense
Conversion Vans were once thought of as an economical means for Road-Loving Hippies to rebuild a vehicle using an existing shell. Things have certainly come a long way since the 1960s. The new generation conversion vans are ingeniously crafted using a combination of a suitable platform and a top that allows for the most variety in interior refurbishing. Paul Sherry Conversion Vans is a unique dealership in Piqua, Ohio, offering some of the most innovative yet affordable van conversion models available.
Heading the parade is the beautifully designed Ram ProMaster. This model is the finest example of creativity in customized van construction. Its integration of existing exterior framework, interior amenities, and superior ride make it the leader in the ever-growing conversion van segment.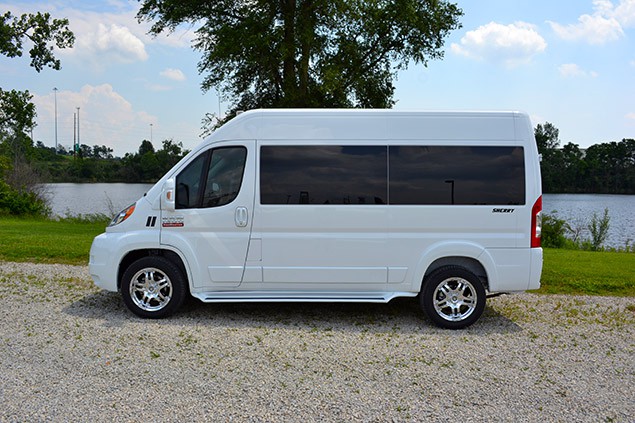 Sherry Vans Are Spacious
Built with an eye toward comfort and passenger mobility, the Ram ProMaster from Sherry Vans allows for buyers to choose from a wide variety of interior layouts. Each of these includes carefully placed fixtures, seats, and entertainment systems that maintain the spacious interior volume. The available TV is the largest screen customers will find in a New Conversion Van model. Even when appointed with fancy window dressings and kitchen appliances, the Ram ProMaster offers more comfortable seating room than any competitor.
Fuel Efficiency Is Important
Long trips in a conversion van can be expensive because of the poor fuel economy. However, unlike the competition, the Ram ProMaster from Paul Sherry Conversion Vans is built with a front-wheel drive that eliminates a full-length drivetrain. This means a lower chassis and therefore less wind drag. The result is far Better Gas Mileage.
Increased Height Means Better Use Of Space
Because of its low-to-the-ground build, the cabin of the Ram ProMaster is actually taller than most other vehicles in this segment. This means that the windows can be larger, ceiling fixtures can be more extravagant, and taller passengers can be accommodated with ease. The factory high-top roof is attached directly to the side panels, meaning that no cutting and reshaping is necessary.
Excellent Performance On The Road
The low-level chassis also means better handling even when the Ram ProMaster is fully loaded with passengers and cargo. This model has a very tight turning radius of 36 feet, and the ride is very smooth and quiet. The 6-cylinder engine provides plenty of power, and the van can actually tow more than 5,000 pounds without engine hesitation.
Sherry Vans Are An Industry Leader
Paul Sherry Conversion Vans is a dealership committed to customer satisfaction. This is evident in the company's dedication to interior customizing. Those who want the utmost in comfort when heading out on the open highway will appreciate the attention to detail in all Sherry Van designs. All the comforts of home at an affordable price is what sets the Ram ProMaster and other Sherry Van models apart from the conversion van competition.