New 7 Passenger Conversion Van Inventory
New 7 Passenger Vans at Paul Sherry Conversion Vans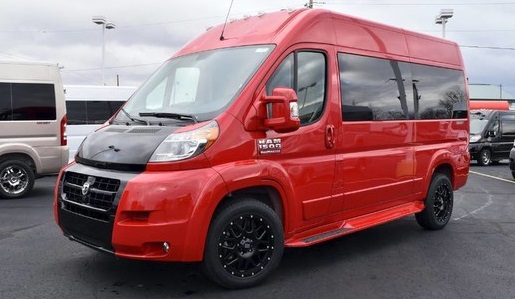 At Paul Sherry Conversion Vans, we are proud to offer a wide selection of new and used models, including an incredible range of new seven-passenger vans. If you are looking for a new van that will hold seven people with plenty of room to stretch out, look no further.
The Most Reliable Models
We aim to provide you with a seven-passenger van that you can count on, which is why we offer the most reliable models possible. You will notice that most of our new seven-passenger models are RAM ProMasters, which is no accident. This particular van is available in multiple colors and features an efficient engine. It also has an amazingly small turning circle, a high interior height that lets you stand up to reach the seats, and a range of features.
Enjoy the Latest Amenities
The seven-passenger vans at our dealership prove that cars and SUVs aren't the only vehicles to deliver luxuries. Our vans can include things like premium leather captain chairs with power recline, self-leveling armrests, a reclining rear seat, a 32-inch HDTV with DVD and Blu-ray player, and a five-inch touchscreen with Uconnect.
We Work with You to Find the Perfect Model
Don't be intimidated by our wide selection of seven-passenger vans for sale. To make the selection process go by more smoothly, we offer as much information as possible on our website. That is why you will find detailed information in addition to photos and a video of the van. Of course, we will also gladly answer any questions you have about a particular new van or our selection in general.
Improving Your Buying Experience
Over the years, our team at Paul Sherry Conversion Vans has developed methods that make the car-buying process go more smoothly, and these apply to all of our seven-passenger vans. Our finance department can work with you to get an auto loan. We can also help you arrange delivery of your chosen van to any of the fifty states and have a range of conversions and custom options available in addition to our new seven-passenger inventory.
We encourage you to browse our inventory of new seven-passenger vans and contact us with any questions you have or to start the auto-buying process.