Build Your Own Conversion Van At Sherry Vans
July 17, 2014

Posted by

Brian Haase
Comments Off

on Build Your Own Conversion Van At Sherry Vans
Conversion Vans may still be the best kept secrets on the road today. They offer unmatched Luxury in terms of design, comfort, and interior space. Paul Sherry Conversion Vans is an authority on conversion vans in the United States. In addition to new and used conversion vans, you can also build your own custom van at Paul Sherry Conversion Vans. We recognize that not every van will suit every family, so we allow you to create the van exactly how you need it. The Ram ProMaster chassis is the newest chassis for building quality vans, and we are the only dealership in the United States currently offering this unique service.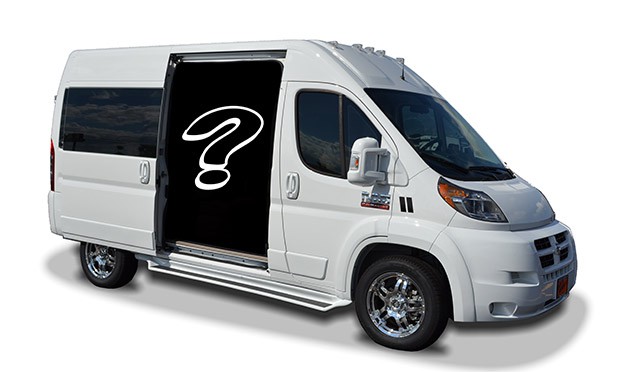 Camper Vans
Before you come to us to build your own conversion van, you have to decide why you want it built a particular way. You could build camper van for road trips across the country. These vans are comfortable, and their small sizes cut down on costs. A camper van provides you with all of the necessary elements for a successful, comfortable trip. You'll have a small kitchen, bed, shower, and more to keep you happy and healthy during your trip. If you never thought vans were capable of such things, it's time to think again when it comes to conversion vans.
Mobility/Wheelchair Accessible Vans
Mobility Vans are common and making a conversion van accessible to someone in a wheel chair can be life-changing. Perhaps you have a disabled family member and you would like to take them with you on trips. You can have your van custom made to ensure that helping them out is easy. The van will comfortably fit the person inside even though they are in a wheel chair. The incredible comfort provided by conversion vans extends to everyone who rides in them. You get to create your van exactly the way you need it so that it fulfills your travel needs.
Mobile Office Vans
A conversion van office may appeal to you if you own a business and need to take care of things when you're on the road. The roomy, comfortable space allows you to get your work done even while someone else drives the van. You never have to worry about wasted time when you're on the road. The quiet, comfortable ride provides you with the necessary elements for a productive day in your mobile office. We can build the ideal van office for your needs, so make sure that we know about your business needs when you speak to us about a custom conversion van.
Paul Sherry Conversion Vans can make all of your travel dreams come true. We specialize in new, used, and custom conversion vans. Please call or stop in today at our location so we can learn how to serve your conversion van needs.