Not categorized

Posted by

Ryan
Comments Off

on RAM Vans For Sale | Paul Sherry Conversion Vans

At Paul Sherry Conversion Vans, we always strive to offer our customers the best selection and service possible. That is why we have an incredible range of RAM conversion vans, including those designed for utility, for mobility purposes, and even those that have been converted into limos. Take a closer look at our selection or get a feel for everything our dealership has to offer.
RAM Mobility Passenger Vans
One of the most popular styles of RAM vans we offer at Paul Sherry Conversion Vans is the mobility van. This is a favorite for those in search of wheelchair accessibility thanks to the level of customization available. RAM Sherry mobility vans have the ideal chassis for a range of upfits that can include a range of lifts and interior seating arrangements with room for wheelchairs. Any [...]
Not categorized

Posted by

Ryan
Comments Off

on 9 Passenger Vans for Sale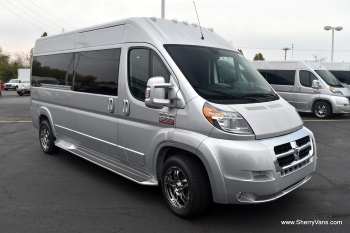 Premium 9 Passenger Vans For Sale Finding a van that fits your entire sports team, your large family, or your business associates isn't a problem anymore with some help from nine-passenger vans. It is easier to find a
nine-passenger vans for sale
than most people realize, and you will be impressed by the premium features and materials used. The best vans for this many people will focus on comfort so no one feels as if their space is limited and adults will always be comfortable in any seat. Find New or Used Options The great thing about nine-passenger vans is that, just like any other vehicle, you can get them
Paul Sherry Conversion Van
Not categorized

Posted by

Ryan
Comments Off

on Wheelchair Vans Ohio | Paul Sherry Conversion Vans
Paul Sherry Conversion Vans is proud to offer a wide variety of wheelchair vans for sale in Ohio. Those with unique mobility needs know that finding a vehicle that can take them from place to place with plenty of room can be a challenge. Luckily, the
RAM ProMaster
is one of the few vans on the market that can be configured to transport a wheelchair easily, and it is available right in Piqua, Ohio at Paul Sherry Conversion Vans.
RAM ProMaster Wheelchair Van The
RAM ProMaster
is the ideal platform for a variety wheelchair van lifts and raises the standard of performance for full sized vans. This van delivers a series of industry firsts, such as: 20+ MPG, front wheel drive, diesel engine option and much more. Browse between three RAM ProMaster passenger van models to find which van fits for your family.