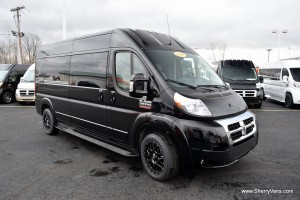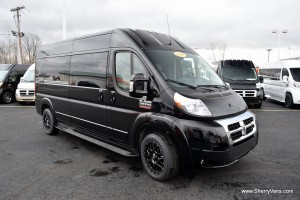 One of the most popular 9 passenger vans for sale can be at Paul Sherry Conversion Vans. It appeals to a wide range of people with its long list of features and incredible passenger capacity. The nine-passenger vans truly fit nine adults in comfort, so there is no need to struggle to fit inside like you would in a minivan.
Who Will Love the Nine-Passenger Van?
Nearly anyone can appreciate the RAM nine-passenger vans, particularly if you need room for more than four adults who want to spread out. Families who don't want anyone to feel squashed will love the RAM nine-passenger vans on their next road trip or even [...]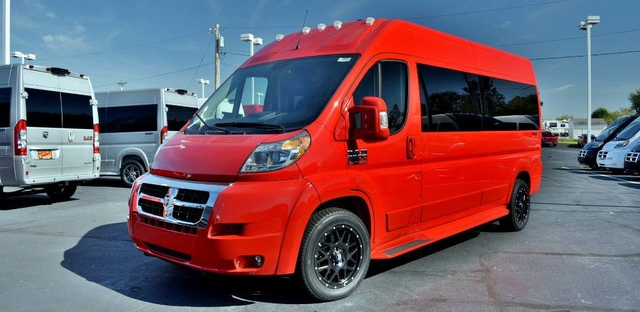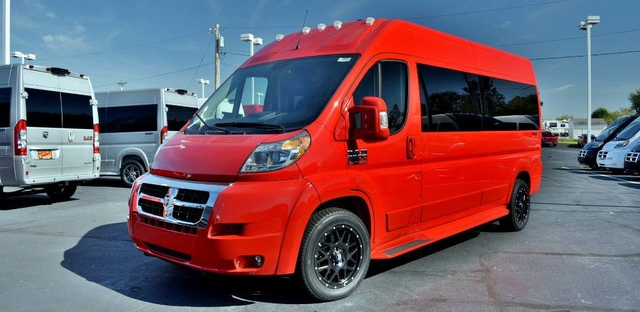 With 2018 just around the corner, Paul Sherry Conversion Vans is getting ready to offer you an updated selection of conversion vans. You can count on the same amazing selection of vehicles that we always offer, but keep your eyes peeled, as new 2018 conversion vans will be arriving on our dealership to join the existing new and used vans. As always, the new conversions cover a wide range of vehicles, giving you the ability to own the exact type of conversion you want.
RAM Conversion Vans by Sherry Vans
One of our most popular types of vans has always been RAM conversion vans from our team at Sherry Vans. We base these conversions on [...]
Out of the various new conversion vans on the market, the RAM ProMaster stands out from the crowd with a range of class-exclusive and best-in-class features. Between all of these amenities, it is no wonder that so many drivers choose a RAM ProMaster over similar new conversion vans. Whether you want a model with front-wheel drive, appreciate the low load height, or just love the seemingly limitless options, the ProMaster can be the right van for you.
Best-in-Class Turning Diameter
One of the first best-in-class features you will notice on the RAM ProMaster is its turning radius. Since you only need 36 feet to turn this van around, you can easily maneuver it around the city and get in and out of that tight spot. While vans are known for being challenging to park or complete tight turns, the ProMaster is the exception to that rule.
Class-Exclusive Front-Wheel Drive System
If you want front-wheel drive in [...]
If you are in the market for a used GMC conversion van, then consider shopping at Paul Sherry Conversion Vans. Our dealership could easily be the best place around to find the conversion van you need, whether you want to maximize seating, mobility, or something else. Between our constantly updated selection and our unique services like delivery, we have everything you need.
We Get a Steady Influx of Options
It can be challenging to find used models if you want something specific, but our dealership takes care of the hassle of searching for you. We regularly receive more used GMC conversion vans as part of trade-ins of people buying new RAM vans. Because of this, we frequently get new models on our lot, creating an ever-expanding inventory.
We Always Have Plenty of Used Conversion Vans
Because of our trade-ins and purchases, drivers from Piqua and beyond reliably supplement our existing stock. This results in a [...]
When it comes time to start looking for a conversion van, you will have a few options, including those from multiple manufacturers. While the RAM ProMaster and other RAM vans are currently the leaders in the world of conversion vans, GMC held that title for a long time. Because of this, you will find a nice mix of both brands in your search for a van. To help figure out why you should choose one over the other, take a look at how they compare to each other.
A Note about Used vs. New
An important thing to keep in mind is whether the van is new or used. Because RAM vans are currently the class leaders in numerous metrics, you will almost always be able to find them new and be able to customize them however you want. Because of their popularity, you can also find a used RAM van without an issue, including [...]
The RAM ProMaster is a best-selling model, and you can take advantage of everything this model has to offer. The RAM ProMaster Conversion Van is an excellent choice with the regular specifications as well as when converted to meet specific needs, whether that is aiding those with mobility restrictions, providing a limo environment, or just taking multiple rows of passengers to the destination.
Thank You to the RAM ProMaster Owners
Thank you to all of the RAM ProMaster owners who have contributed to this model being the best-selling in its group. You made a smart choice when selecting the reliable and versatile RAM ProMaster with its spacious interior and range of interior configurations. We are glad that you are able to enjoy your ProMaster along with all of the comforts it contains and the convenience it provides.
Why Drivers Prefer the RAM ProMaster
It isn't hard to see how the RAM ProMaster became a class [...]
Head to Paul Sherry Conversion Vans for service or to buy a new conversion van and you will notice that our sales and showroom is new and improved. With our recent renovations to the dealership, we have a dedicated spot for conversion vans, including both indoor sales and a showroom. With this updated space, we can better serve you, our customers.
Relax in Comfort While Waiting
Whether you are waiting for those finishing touches on your paperwork or for your conversion van service to be finished, you will now have an improved waiting area to relax in, complete with highly comfortable chairs, magazines, and a TV for entertainment. There is even coffee, water, and more to ensure that any time you have to wait will simply fly right by.
A Complete Showroom
In the past, those looking to buy one of our conversion vans had to make do with looking at them outside or maybe [...]
No matter the reason you are in the market for a GMC conversion van, Paul Sherry is ready to help you out. We have an excellent inventory of vans for a range of purposes and can even work with you to customize one if you don't find what you see. When buying from Paul Sherry, you will receive excellent customer service during every step of the process, ensuring that you have a positive experience.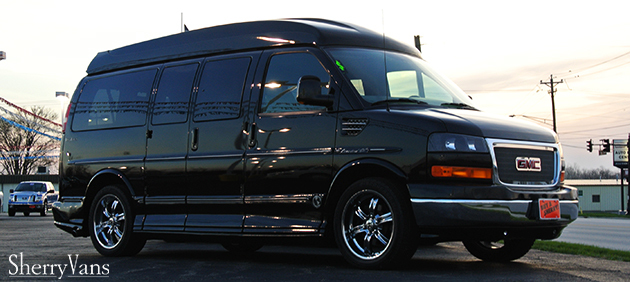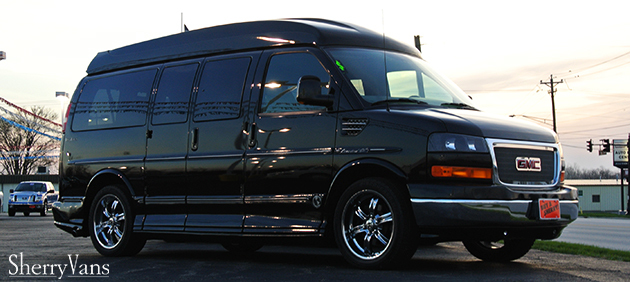 A Wide Selection
Thanks to our range of GMC conversion vans for sale, there are options for everyone, regardless of your desired purpose. We have vans that have been converted to be wheelchair accessible, as well as those that were converted to become limousines. There is also a variety of model years available, meaning that our selection has a wide range of prices to meet [...]


At Paul Sherry Conversion Vans, we offer only high-quality products, including vans converted by companies with decades of experience. By working with only the best manufacturers, we are able to deliver vehicles to our clients without worrying about their quality or future customer satisfaction. This is why we work with the Waldoch van company, maker of Galaxy Vans. The Waldoch company does an incredible range of conversions, allowing us to offer passenger vans, wheelchair vans, and limo vans.
How It Began
The Waldoch van company began in Forest Lake, Minnesota, in 1974. Donald Waldoch was proud of his woodworking skills. One day, someone asked him to create custom-built cabinets for the interior of a van. His project was a success, and word soon spread. [...]
Conversion vans and larger vans in general seem to be less popular today than they have been in the past. This change has slowly taken place as minivans became more popular, but people across the country are missing out. Traditional vans are incredibly spacious and offer extra passenger space, making them great for wheelchair van applications, large families, businesses, sports teams, schools, and more. They also offer plenty of advanced technologies so you won't feel as if you are missing out. When you are looking to buy your next van, you will find plenty of great choices. Search for the following qualities to help narrow down your selection.
Interior Space
Perhaps the most important part of a van is its interior space; after all, this is why most people choose a van over an alternative, like a minivan or SUV. Figure out how many seats you need in your van; you can easily find models [...]
Going camping in a conversion van is one of the best ways to take advantage of your vehicle's interior space. You can bring along a tent and set it up outside, using the interior of your van to bring people and camping supplies. Or you can remove some of the seats from inside your van and turn it into your tent, perfect for one or two people. With some clever accessories, like tents that attach to the vehicle, you can even combine both options. To make the most of your van camping, you need to pack it correctly, including bringing along the proper supplies and making sure they are accessible.
Keep the Essentials on Hand
Whether you are camping inside the van or just using it for storage, you need to make sure you have all the essential items with you. This should include things like toilet paper, a lighter and candles, a sleeping bag [...]
No matter the type of youth sports that you coach, you will need a vehicle that can take the whole team from place to place in comfort. While you could ask a few parents with minivans on the team to help out on a regular basis, this is putting a great deal of pressure on them. You will find it much easier to just buy a conversion van for your team and never have to worry about a parent having to cancel last minute.
Excellent Rear Storage
When you think about a van for youth sports, you will need something that can fit all of the gear along with the team. Some vans only let you maximize passenger room but require some odd maneuvering to fit things like hockey sticks or baseball bats inside. This isn't an issue with a Sherry van with its incredible cargo area. Since the interior height is 6 feet 4 inches, [...]
While most people on the road will stick to cars, trucks, or SUVs, some will find that a luxury van from Paul Sherry is the ideal option. These vans fit seven or nine passengers with ease and are spacious with premium appointments. They let everyone ride in comfort and give you unlimited options for uses. While you could always use your luxury van for a shared taxi service, there are plenty of other uses, as well.
Family Vehicle
If you have a larger family, then a Sherry luxury van will be the ideal choice. Since they are ready for nine passengers, you don't have to worry about having room for everyone when you go to the store, movies, or on another outing. They will always have room for you, your spouse, and several kids, plus their friends.
Business, School, or Hotel Shuttle
Those who run a hotel, business, or school may find a luxury van [...]
No matter where you plan to drive your conversion van, you want to make sure that you are ready for your road trip. Some things to take with may seem obvious, like snacks, but people are likely to forget about other important items to bring. Although there are dozens of things you should check off your list before hitting the road on your next trip, make sure to at least have the following four items, as they are the most important.
Maps
It should be a given that when you go on a road trip you need to have a map of some sort with you, but in this day and age, the definition of a map can vary. You may feel fine using the map application on your smartphone, but you don't want to rely on just that. If you feel comfortable navigating with your smartphone or GPS unit, that is fine, but don't [...]
Vans aren't known for getting the best fuel efficiency, but you can easily change this. By taking care of your vehicle and driving carefully, it is possible to make your van more efficient. Of course, you will want to choose an efficient model over those that consume more fuel, but following these steps can boost how far you go on each tank of gas.
Don't Drive Aggressively
Perhaps one of the easiest ways to help your Sherry Van be more fuel efficient is to pay attention to your driving habits and avoid aggressive driving. In fact, starting suddenly and hard braking may lead to consuming up to 40 percent more fuel. Instead, accelerate smoothly and slowly before getting into your high gear quickly.
Keep a Steady Speed
Cruise control can be your best friend when it comes to fuel economy. Driving at a steady speed is one of the top methods of going further on [...]
Planning a road trip with a family is even more challenging than going with a group of friends since you have to keep the little ones entertained. Luckily, there are dozens, if not hundreds, of games you can play with your children during a road trip so they don't get bored. Factor in other entertainment, like books, books on tape, travel versions of games with magnetic pieces, and portable DVD players, and you don't have to worry about your children asking if you're there yet. To save you some time, here are the best family road trip games and everything you need to prepare to play them.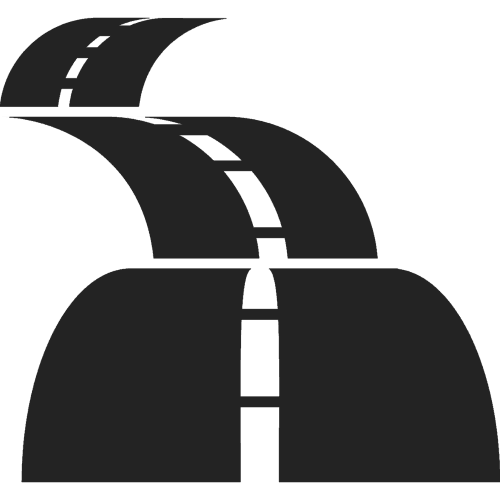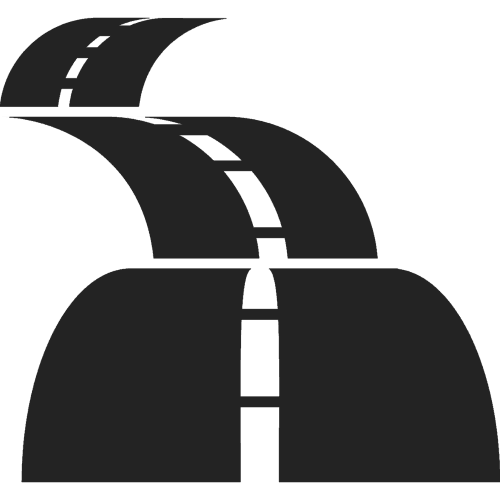 Alphabet Game
The alphabet game is pretty straightforward. You just [...]
Conversion Van Tailgating: The Better Choice For NASCAR Fans
The hallmark vehicle driven to events by many endearing fans of NASCAR races across the country was formerly the Class A Motorhome. However, fans are changing their favorite vehicle to get them to the races, and the evolution of the Conversion Van is fueling that change. The standard RV was used more for its occupant carrying capacity than its lodging comforts. Conversion vans built on large chassis cost less, seat more people, have plenty of entertainment options, and are downright fun to drive.
New Commercial Van Chassis Used In Modern Conversions
The RAM ProMaster has been a boon to delivery drivers everywhere, but they are also an incredible platform to build conversion vans on. They are hitting the Class B motorhome market by storm with passenger-carrying van conversions becoming hugely popular as the standard vehicles to move people in comfort and style. One of the largest improvements over [...]
How Much Will The RAM ProMaster Tow? Unbelievable Towing with The Sherry Conversion Van
So, you're considering introducing your family to style and luxury by becoming a Sherry Conversion Van owner. Your loved ones will feel like movie stars as they travel in the newest luxury conversion van, while you rest easy knowing you didn't have to be a movie star to afford it. The 2015 Sherry Conversion Van was created so that you and your family can enjoy luxury at an affordable price.
Not only is the Sherry Conversion Van top of the line in luxury and comfort, but it also offers a maximum towing capacity of 5,100 pounds. Just like the RAM ProMaster Conversion Van, the Sherry Conversion Van is equipped with the same powerful engine and six speed transmission which assures smoother driving while hauling your families toys. With this amazing power, can you imagine all the things you can now tow without [...]
Buying A Conversion Van Over a SUV?
If you are thinking about buying an SUV, you should think a little more deeply and consider your other options. When doing so, you can see that a conversion van offers more, and you will do better with it in most cases. With this in mind, here are six reasons to purchase a conversion van over a SUV.
Price
First and foremost, if you want to save some cash when buying your vehicle, you should consider a conversion van. Simply put, they are less expensive to buy, and you can drive off the lot with thousands of dollars in savings. This is especially true when you start comparing equipment.
Fuel Economy
When you own an SUV, there is a pretty good chance that you will spend quite a bit more money on just fuel. Think about it, if you drive the average SUV, you will struggle to get 20 MPG [...]
Wheelchair Vans That Fits Your Needs and Lifestyle Fitting a Vehicle to a Person with Mobility Problems
Those of us who have family members or friends with mobility problems understand the difficulties of transportation for them. Travel is not just an issue of vehicle, but also of access to the vehicle by the wheelchair-bound passenger or driver. In attempts to make a wheelchair van compatible and accessible, the vehicle may be less convenient for others, even limiting how a person enters the vehicle or is seated in the vehicle.
Paul Sherry's Answer—The RAM ProMaster Conversion Van
The RAM ProMaster begins life as a chassis with safety and security options like advanced front airbags (supplemented by seat-mounted side airbags and side curtain front airbags), electronic roll mitigation, electronic stability control, and more… The point is, this front-wheel-drive van is fully outfitted in both low roof and high roof designs, and can safely carry a payload of 4,440 [...]
Will A Conversion Van Fit In My Garage?
Conversion Vans are among the most versatile vehicles on the road today. They provide transportation for the entire family, haul cargo and also act as a camper on the weekends. Conversion vans typically have a rear bench seat that folds down into a bed. Weekend campers, hunters or tourists can bring their room with them, saving money on hotels and enjoy sleeping in secure comfort.
Many vans today are equipped with television sets, DVD players, overhead lighting and are very well insulated. Passenger seats are made to be comfortable. Air conditioning and heating allow create a pleasing environment for travel or camping.
There is a perception that a high top van will not fit in standard garage because of it's height. Most modern garage doors are seven or eight feet tall. Taller doors may be found on older homes and new doors made for taller vehicles. The best [...]
Used GMC Conversion Vans For Sale
Paul Sherry Conversion Vans, a leading dealership in high end Luxury Conversion Vans, has been providing their superb service to customers for many years, and knows what goes best in a conversion van. Among their most notable products is a line up of Ram ProMaster Conversion Vans, dubbed the "Sherry Van", that have become well renowned for their quality, capability and excellent features.
Paul Sherry Conversion Vans is not, however, exclusive to these Ram based models. Also available is a wide range of other conversion vans, including GMC, Ford, and Chevrolet based models. As with many dealerships, Paul Sherry Conversion Vans is not limited to new inventory. Pre-owned conversion vans offer the same great quality of newer vans for a substantially lower price point.
Pre-Owned GMC Conversion Vans are a great value for someone who needs a conversion van, but cannot justify the expense involved with purchasing a brand new [...]
"Doing Business As It Should Be Done": Words Of A Satisfied Conversion Van Customer
Here at Paul Sherry Conversion Vans, we strive to treat every one of our customers like family. We understand that looking at and purchasing a vehicle from a great distance can be a daunting experience, but does it have to be? We don't think so.
We recently received this review on Cars.com:
I inquired on a Saturday morning via a phone call (from Colorado) to Justin Smith @ Paul Sherry Conversion Vans regarding a 2012 GMC Explorer Conversion Van he had advertised on-line. I had been searching for several months to find a specific make/model for myself and family. Justin had posted a very detailed and informative video tour of the Van I was looking for. When I called, he was prompt to reply and confirm the details of the Van as noted on his video. He was extremely helpful in [...]
The Ultimate Uber Vehicle
Uber is an app and service that makes it convenient to get around many cities. It provides a more pleasant and often cheaper alternative to taxis. Uber has gotten so popular that people are starting to think about what type of vehicle to purchase if they want to become Uber drivers. There are several good reasons to choose the Sherry Conversion Van if you want to be an Uber driver.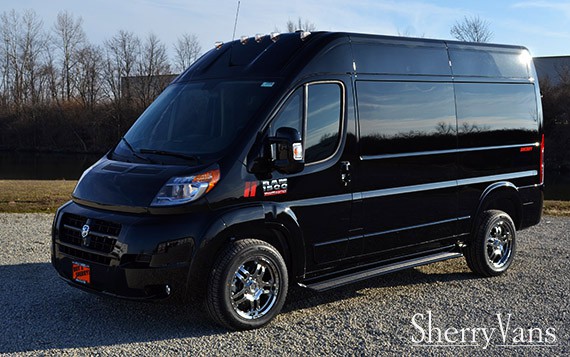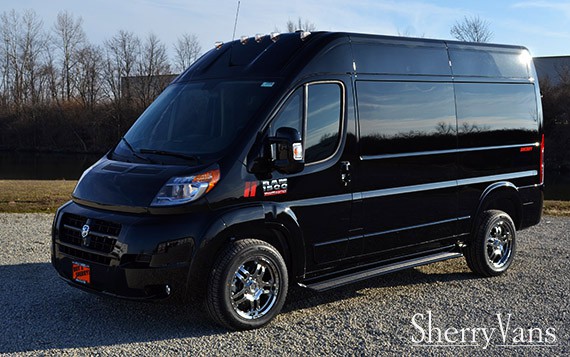 The Convenience of Uber
When you have the Uber app, you can either offer your services as a driver or get a ride when you need it. Presently, the service is most popular in big cities such as San Francisco, New York, Chicago, Los Angeles and many others. It is, however, rapidly expanding to smaller cities and other countries. It is already available in [...]
Conversion Vans For Sale in New York
Whether people are taking in an iconic panorama from a boat across New York harbor or standing amidst the towering buildings on Wall Street, few modern cities will steal a person's heart or take their breathe away like New York City. With more than nine million inhabitants, there are lots of ways for people to make that local connection.
One great way to do this is with a conversion van from Paul Sherry. These vans are renowned for their comfort and endless options for personalization. With these features, people can experience New York like they have never have before. Aside from that, there are a number of reasons why people should go for a conversion van over other vehicles.
A Personalized Connection